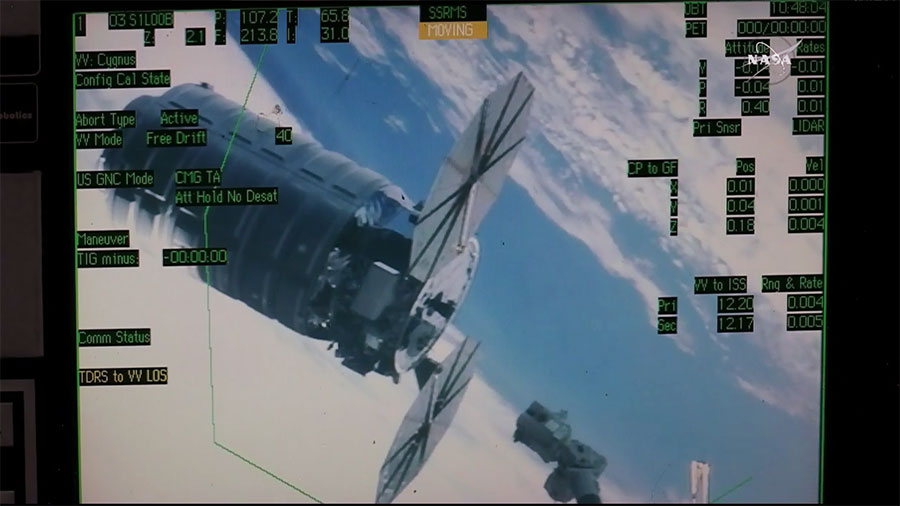 Using the International Space Station's robotic arm, Canadarm2, Expedition 47 Commander Tim Kopra successfully captured Orbital ATK's Cygnus cargo vehicle at 6:51 a.m. EDT. The space station crew and the robotics officer in mission control in Houston will position Cygnus for installation to the orbiting laboratory's Earth-facing port of the Unity module.
NASA TV coverage of the installation will begin at 9:15 a.m. Installation of the Cygnus spacecraft to the space station is expected to be completed by 9:25 a.m.
Among the more than 7,700 pounds of supplies aboard Cygnus are numerous science and research investigations and technology demonstrations, including Saffire-I, which will provide a new way to study a large fire on an exploration craft. Such studies have not been possible in the past because the risks for performing such studies on spacecraft with astronauts aboard are too high.
Saffire-1 will remain on the spacecraft once all the other supplies are unloaded, and the vehicle will be attached to the space station for about two months. Once it departs and the spacecraft is a safe distance from the space station, engineers will remotely conduct the first Saffire experiment before the Cygnus' destructive reentry into Earth's atmosphere. Before detaching from the station, Cygnus will also be filled with about 3,000 pounds of trash, which will be burned up over the Pacific Ocean.
Follow the conversation on Twitter via @Space_Station and the hashtag #Cygnus.