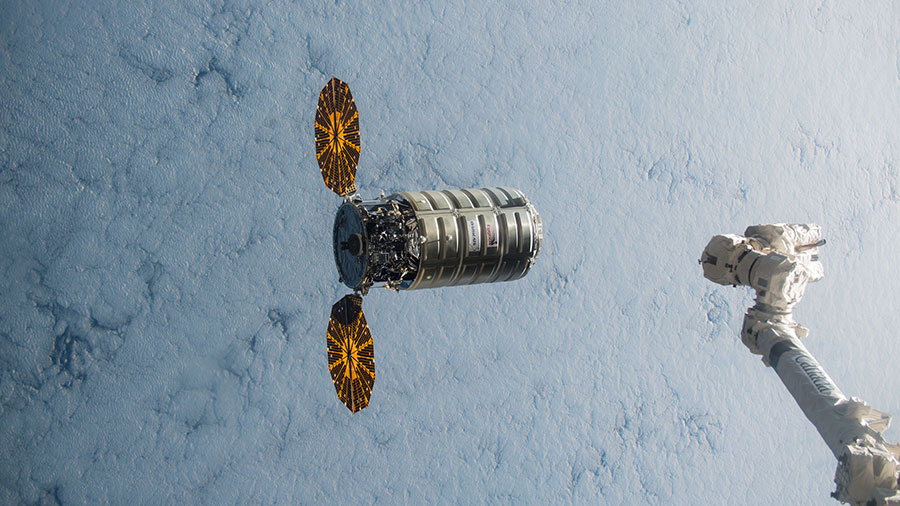 An Orbital ATK Cygnus cargo spacecraft carrying more than 7,700 pounds of supplies and science and research investigations is set to arrive to the International Space Station early Saturday morning. The uncrewed cargo ship launched at 11:05 p.m. EDT on Tuesday, March 22 on a United Launch Alliance Atlas V rocket from Space Launch Complex 41 on Cape Canaveral Air Force Station in Florida to begin its journey to the orbiting laboratory.
Expedition 47 Commander Tim Kopra of NASA and Flight Engineer Tim Peake of ESA (European Space Agency) will use the station's Candarm2 robotic arm to reach out and capture Cygnus at approximately 6:40 a.m. NASA TV coverage will begin at 5:30 a.m. Installation is expected to begin at 9:25 a.m. NASA TV coverage resumes at 9:15 a.m.
The mission is Orbital ATK's fifth cargo delivery flight to the station through NASA's Commercial Resupply Services contract, and the second flight of an enhanced Cygnus spacecraft to the station.
For NASA TV schedule and video streaming information, visit: https://www.nasa.gov/nasatv.
For more information about the International Space Station, visit: https://www.nasa.gov/station.
To join the online conversation about the Orbital ATK CRS-6 and the International Space Station on Twitter, follow @Space_Station and the hashtag #Cygnus.