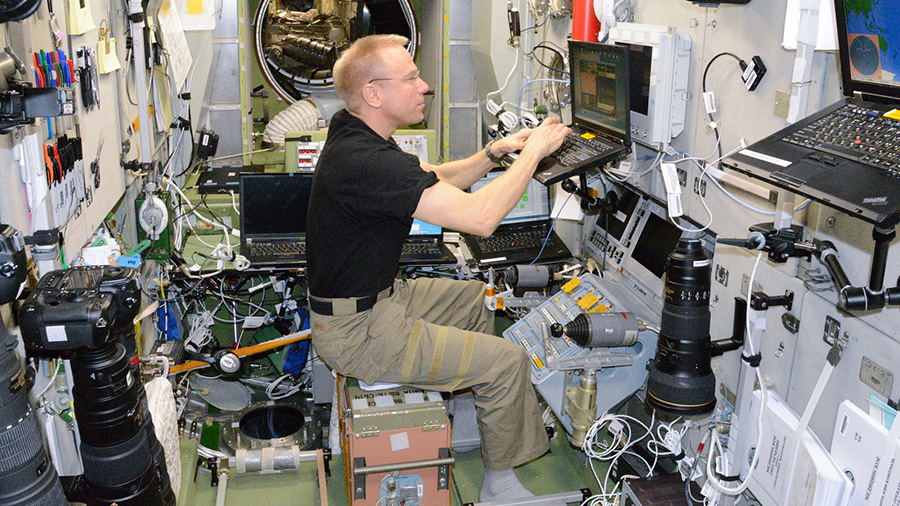 The three residents onboard the International Space Station are busy today researching space science to benefit life on Earth and future crews. The trio is also ramping up to welcome a new set of Expedition 47-48 crew members when they arrive at the end of the week.
Scientists are researching how astronauts perform complex and detailed tasks before, during and after their long-term space missions. Commander Tim Kopra contributed to that study today, known as the Fine Motor Skills experiment, by conducting a series of interactive tasks on a touchscreen tablet. Kopra is also getting ready for another experiment that observes the impact of microbes on a crew member's immune system.
British astronaut Tim Peake started the day conducting the final experiment run for the Magvector electromagnetic study. He then moved on to Japan's Kibo lab and replaced Payload Data Handling hardware required to run future life science experiments.
In the Russian side of the orbital lab, cosmonaut Yuri Malenchenko is preparing for the arrival of three new crew members. NASA astronaut Jeff Williams and cosmonauts Oleg Skripochka and Alexey Ovchinin will launch aboard the Soyuz TMA-20M spacecraft Friday at 5:26 p.m. EDT/9:26 p.m. UTC and dock less than six hours later to the Pirs docking compartment.