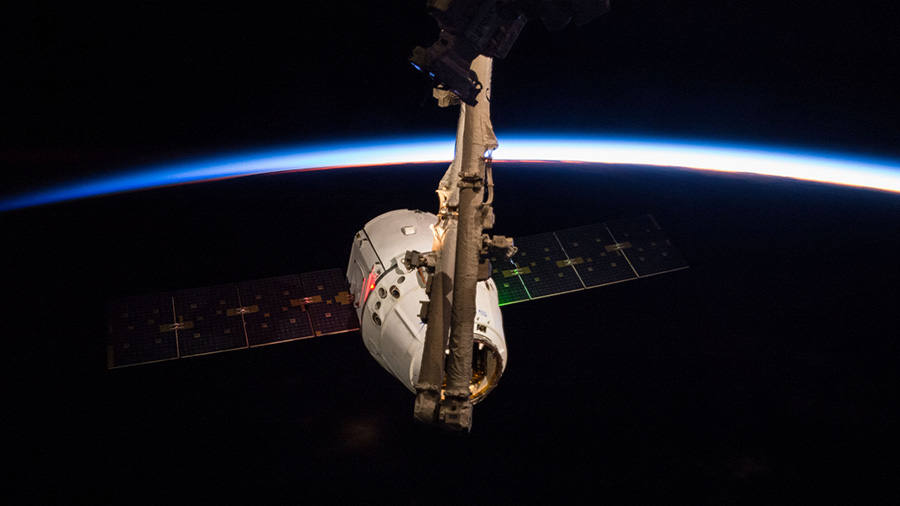 The SpaceX Dragon CRS-8 mission will deliver 6,900 pounds/3,130 kilograms of science, crew supplies and hardware to the International Space Station. Payloads aboard Dragon will include rodents for a medical study and an expandable module that will be installed after Dragon completes its two-day trip to the station.
Dragon is scheduled for launch Friday at 4:43 p.m. EDT/8:43 p.m. UTC. It is scheduled to be captured with the Canadarm2 robotic arm Sunday at 7 a.m. and will be installed to the Harmony module about two-and-a-half hours later.
The Expedition 47 crew is getting the Rodent Research hardware ready in the orbital lab so scientists can learn how to offset bone and muscle diseases on Earth. Researchers will be exploring how living in space affects bones and muscles by observing mice soon after Dragon arrives.
The largest payload in Dragon is the Bigelow Expandable Activity Module (BEAM). The BEAM will be attached to the Tranquility module a week after its arrival for a series of habitability tests over two years.
Astronaut Tim Peake continued more muscle research today using specialized exercise gear and attached electrodes to his right leg and ankle. Commander Tim Kopra is collected hardware for a combustion experiment that is studying more efficient ways to burn fuel on Earth and in space. Flight Engineer Jeff Williams is training for the new Meteor imaging experiment delivered aboard the Orbital ATK resupply ship.