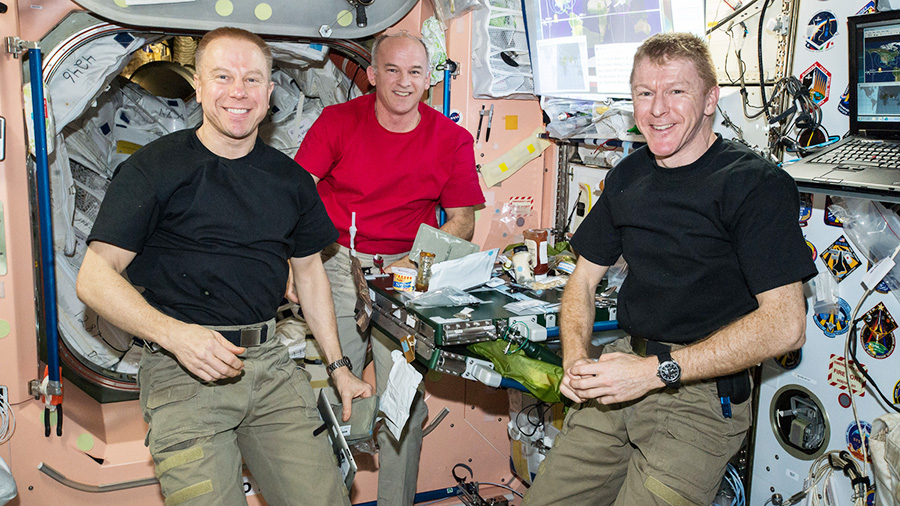 The Expedition 47 crew has begun working new science delivered aboard the new Dragon and Cygnus commercial cargo ships. The crew is also getting ready for the extraction and installation of the Bigelow Expandable Activity Module scheduled for Saturday.
One of the experiments delivered aboard Dragon is already being set up for operation. The Rodent Research-3 experiment is exploring an antibody used on Earth to see if it prevents muscle atrophy and bone loss in space. The crew is also working the Gecko Gripper study, launched aboard Cygnus, which is researching advanced adhesive technology.
Commander Tim Kopra and British astronaut Tim Peake conducted vision tests and blood pressure checks today for the Ocular Health study. Scientists are researching vision changes reported during long-term space missions and how long before vision returns to normal when an astronaut returns to Earth.
The International Space Station began a series of orbital boosts today to get ready for a June crew swap. Kopra and Peake along with fellow Expedition 46-47 crew member Yuri Malenchenko will return home in early June. They will be replaced about two weeks later when Expedition 48-49 crew members Anatoly Ivanishin, Kate Rubins and Takuya Onishi launch.