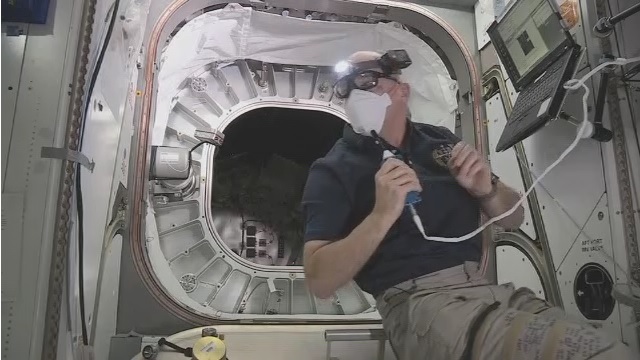 NASA astronaut Jeff Williams opened the hatch to the Bigelow Expandable Activity Module (BEAM) at 4:47 a.m. EDT Monday, June 6. Along with Russian cosmonaut Oleg Skripochka, Williams entered BEAM for the first time to collect an air sample and begin downloading data from sensors on the dynamics of BEAM's expansion. Williams told flight controllers at Mission Control, Houston that BEAM looked "pristine" and said it was cold inside, but that there was no evidence of any condensation on its inner surfaces.
Additional ingress opportunities to deploy other sensors and equipment in BEAM are scheduled for Tuesday and Wednesday. The hatch to BEAM will be closed after each entry.
Williams and the NASA and Bigelow Aerospace teams working at Mission Control Center at NASA's Johnson Space Center in Houston expanded the Bigelow Expandable Activity Module (BEAM) by filling it with air during more than seven hours of operations Saturday, May 28. The BEAM launched April 8 aboard a SpaceX Dragon cargo spacecraft from Cape Canaveral Air Force Station in Florida, and was attached to the International Space Station's Tranquility module about a week later.
The BEAM is an example of NASA's increased commitment to partnering with industry to enable the growth of the commercial use of space. The BEAM, which Bigelow Aerospace developed and built, is co-sponsored by Bigelow and NASA's Advanced Exploration Systems Division.