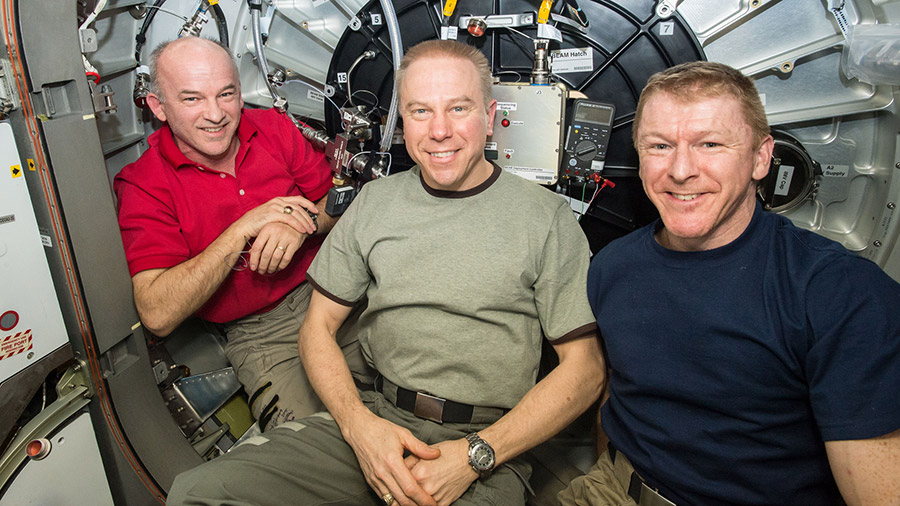 Expedition 47 is preparing the Orbital ATK Cygnus space freighter for its June 14 departure from the International Space Station. The Canadarm2 robotic arm will maneuver towards Cygnus and grapple the cargo craft before unberthing it from the Unity module and releasing it next Tuesday.
The crew is reviewing gear that will be installed in Cygnus to record its fiery re-entry into Earth's atmosphere on June 22. When Cygnus begins its atmospheric demise the Re-entry Breakup Recorder will collect data during its breakup. Engineers will use the data to better understand the orbital dynamics of a destructive re-entry and design safer spacecraft.
British astronaut Tim Peake joined NASA astronauts Jeff Williams and Tim Kopra for ultrasound scans today. The scans, along with biological samples and ground tests, will help doctors determine the risk of clogged arteries, or atherosclerosis, in astronauts on long term space missions.
The three cosmonauts, Yuri Malenchenko, Oleg Skripochka and Alexey Ovchinin, worked on their set of science experiments and maintenance tasks on the Russian side of the station. They continued exploring the vibrations the station experiences during spacecraft dockings, spacewalks and crew exercise sessions. They also researched new techniques to locate module pressure leaks as well as locate and photograph landmarks on Earth.