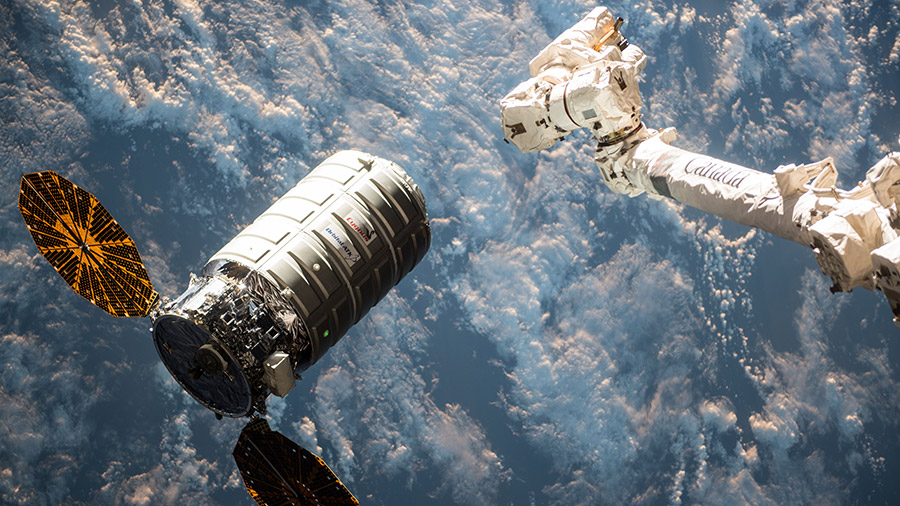 Live coverage began at 9 a.m. EDT on NASA Television of the departure of Orbital ATK's Cygnus cargo spacecraft from the International Space Station. Release from the station's Unity module is scheduled for 9:30 a.m.
The Cygnus spacecraft arrived at the International Space Station March 26, delivering almost 7,500 pounds of cargo and science investigations. Experiments delivered on Cygnus supported NASA and other research during Expeditions 47 and 48, including studies in biology, biotechnology, physical science and Earth science — research that impacts life on Earth, and also will help us on the journey to Mars. Investigations studied realistic fire scenarios on a space vehicle, enabled the first space-based observations of meteors entering Earth's atmosphere from space, explored how regolith behaves and moves in microgravity, tested a gecko-inspired adhesive gripping device that can stick on command in the harsh environment of space, and added a new 3-D printer in microgravity.
Watch live on NASA TV or online: https://www.nasa.gov/nasatv.
Join the conversation on Twitter by following @Space_Station. To learn more about all the ways to connect and collaborate with NASA, visit: https://www.nasa.gov/connect