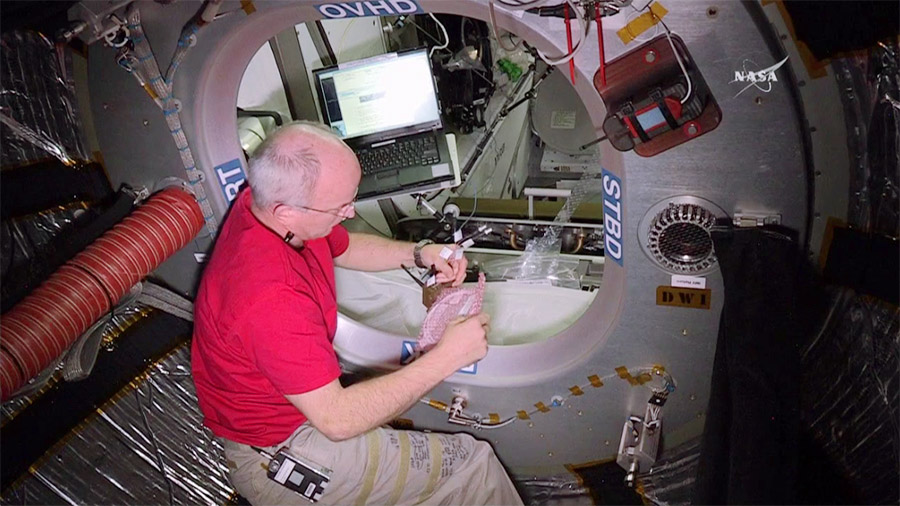 The hatch to BEAM was opened up again today for the second day of outfitting the expandable module to determine its habitability and durability. BEAM, or the Bigelow Expandable Activity Module, is set to demonstrate the overall performance and capability of expandable habitats for the next two years. The crew is predicted to enter BEAM between 12 and 14 times during its stay.
Three Expedition 46-47 crew members are winding down a six-month mission at the International Space Station. Commander Tim Kopra, veteran cosmonaut Yuri Malenchenko and first-time British astronaut Tim Peake are packing their Soyuz TMA-19M spacecraft before they undock June 18 for the 3.5 hour ride back to Earth.
The station will raise its orbit Wednesday morning to support the undocking as well as the arrival of the next crew on July 9. New Expedition 48-49 crew members Anatoly Ivanishin, Kate Rubins and Takuya Onishi will launch July 7 aboard a new Soyuz MS-01 spacecraft for a two-day trip to their new home in space.
Inside the space station, the astronauts explored how future crews will communicate and perform as they travel farther out in space. Saliva samples were collected and stowed so scientists can analyze them to understand how microgravity affects a crew member's immune system. The crew also photographed Earth's landmarks and studied the vibrations the station experiences during vehicle dockings, spacewalks and crew exercise.