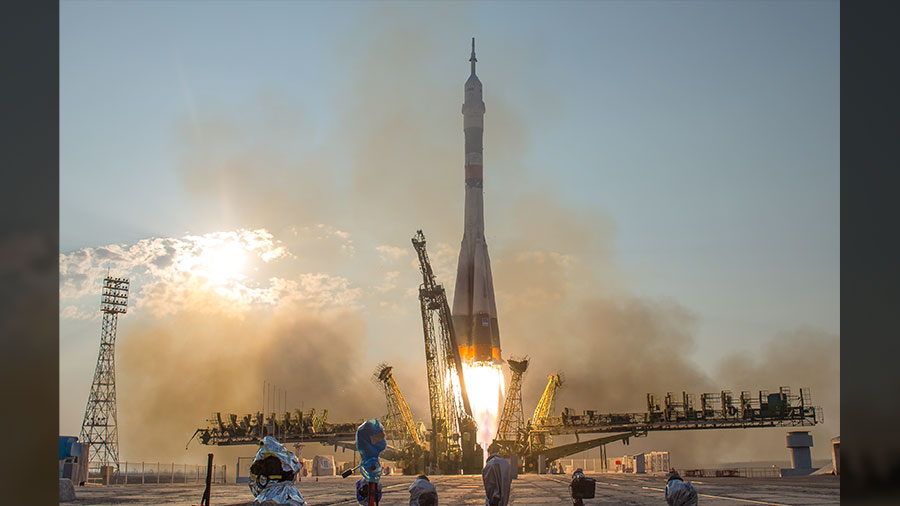 A new set of Expedition 48 crew members is on its way to the International Space Station after launching Wednesday night (Thursday morning Baikonur time) aboard the Soyuz MS-01 spacecraft. The trio from Japan, Russia and the United States will arrive at their new home in space early Saturday morning for a four-month stay.
Veteran cosmonaut Anatoly Ivanishin is commanding the Soyuz spacecraft that is carrying him and first time astronauts Kate Rubins and Takuya Onishi to the orbital laboratory. They will dock to the Rassvet module Saturday at 12:12 a.m. EDT, open the hatches about two-and-a-half hours later and begin a mission scheduled to last until October. NASA TV will cover the docking activities beginning at 11:30 p.m.
While they wait for the new arrivals, Commander Jeff Williams and Flight Engineers Oleg Skripochka and Alexey Ovchinin are keeping up science operations and lab maintenance work. They have been aboard the station since March 18 and are due to return to Earth in September.
Williams installed gear in the Japanese Kibo lab module today for a new life science experiment set to arrive on the next SpaceX mission. Next he configured an observation rack in the U.S. lab module that will collect imagery of meteor showers pictured from space.