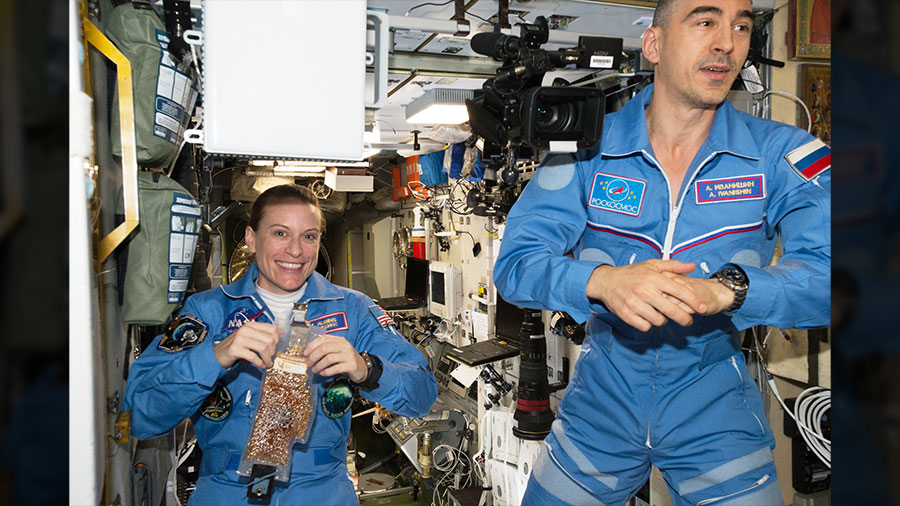 The Expedition 48 crew is getting ready for next week's arrival of a pair resupply ships. The station residents are also continuing space research benefitting life on Earth and future crews.
The first cargo craft due next week is the Progress 64 (64P) resupply ship and will launch Saturday at 5:41 p.m. EDT. The 64P will take a two-day trip, or 34 Earth orbits, and dock Monday at 8:22 p.m. to the Pirs docking compartment.
SpaceX will launch its ninth commercial cargo mission Monday at 12:44 a.m. delivering the first of two international docking adapters. The Dragon cargo craft will also be carrying new science gear to enable DNA sequencing and a bone loss study. Commander Jeff Williams and Flight Engineers Kate Rubins and Takuya Onishi are setting up communications gear and training for the robotic capture of Dragon when it arrives early Wednesday.
Back inside the orbital lab, the six station residents continued ongoing human research to understand how living in space affects the human body. A Russian experiment looked at how weightlessness affects blood flow in the carotid artery. A U.S. study is exploring the efficacy of medicine, symptom relief and side effects during long-term space missions.