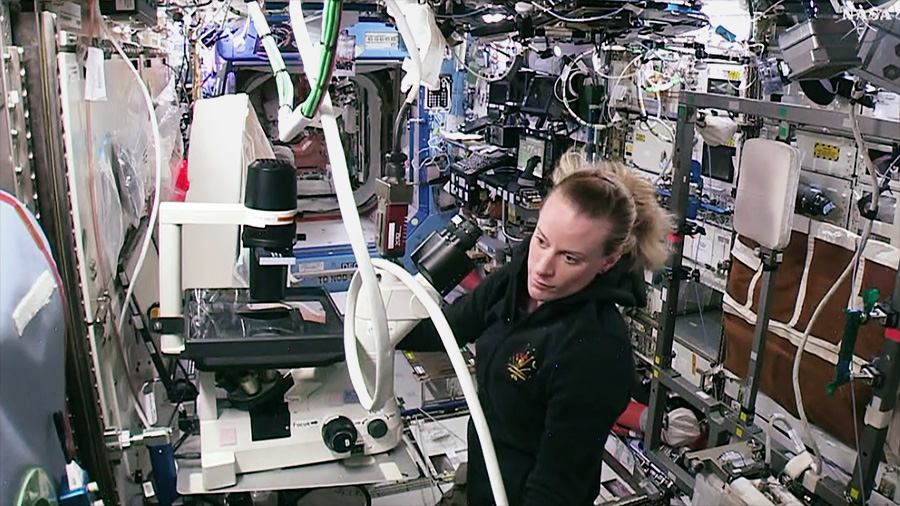 New science unloaded from the latest SpaceX Dragon to visit the International Space Station is under way. The variety of new and ongoing space research is designed to benefit life on Earth and astronauts on long duration missions.
Astronaut Kate Rubins, a biological researcher on Earth, is lifting her science expertise to new heights today setting up a microscope in the U.S. Destiny laboratory module. The new microscope will observe heart cells to help doctors understand how the human heart adapts in space and improve crew health.
Japanese astronaut Takuya Onishi checked the habitat for the Mouse Epigenetics experiment today. That study is researching how microgravity alters the gene expression in mice and DNA in their offspring.
Commander Jeff Williams joined cosmonaut Alexey Ovchinin for ultrasound scans today to investigate how fluids shift from the lower body to the upper body. The study is exploring how these fluid shifts affect fluid pressure in an astronaut's head and eyes potentially affecting vision.
Cosmonauts Oleg Skripochka and Anatoly Ivanishin partnered together for a study of the upper body that observes changes in the cardiovascular and respiratory systems. The research explores breathing and blood pressure in microgravity to maintain the health of crews living in space.