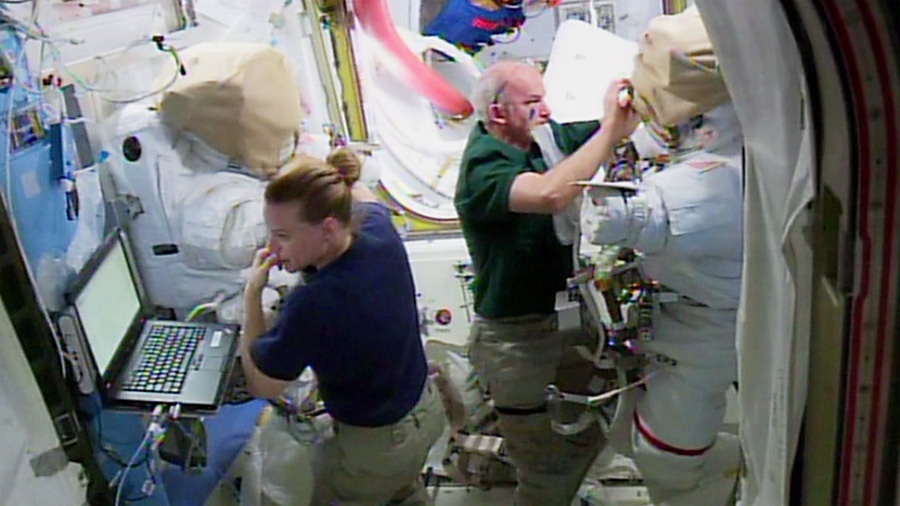 A new port for commercial crew vehicles was robotically removed from the back of the SpaceX Dragon Wednesday night. The International Docking Adapter was placed in position for its installation Friday morning to a pressurized mating adapter attached to the Harmony module.
VIDEO: International Docking Adapter is Extracted from SpaceX Dragon
Two spacewalkers, Commander Jeff Williams and Flight Engineer Kate Rubins, will complete the installation work during a spacewalk scheduled to begin Friday at 8:05 a.m. EDT. The NASA astronauts will install cables and outfit the docking port that will enable future Boeing and SpaceX crew vehicles to dock at the International Space Station.
While the spacewalk preparations were under way, a Japanese astronaut and three cosmonauts conducted a variety of space research. Takuya Onishi tended to the mice being observed for the Mouse Epigenetics study. That experiment is researching altered gene expression and DNA changes in mice and their offspring living in space.
Cosmonaut Alexey Ovchinin explored ways of detecting micrometeoroid impacts on the outside of the station. He also joined Oleg Skripochka and studied how galactic and solar radiation genetically affects viruses that infect bacteria. Veteran cosmonaut Anatoly Ivanishin investigated how coulomb crystals and liquids are formed by charged macroparticles and researched how the heart beats in space.