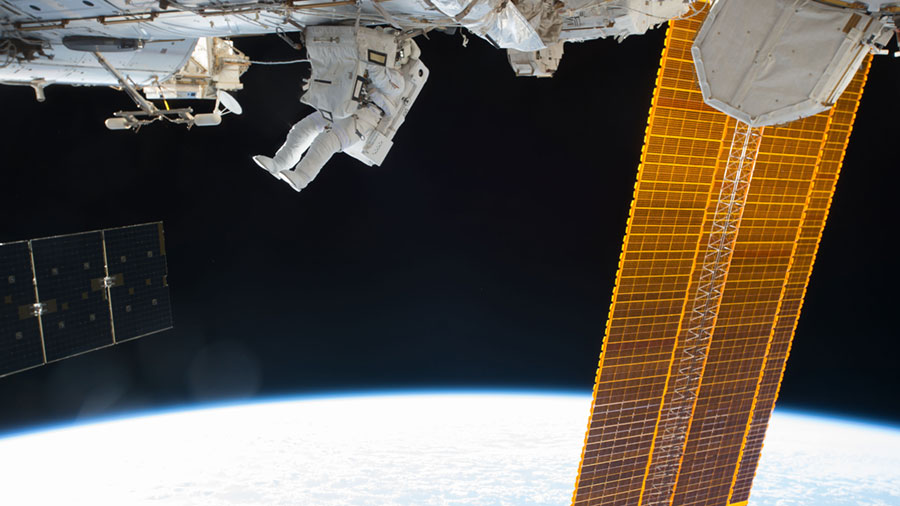 Three astronauts are relaxing today after a spacewalk on Friday and weekend cleanup work. Meanwhile, a pair of spacecraft will be departing the International Space Station over the next two weeks.
NASA astronauts Jeff Williams and Kate Rubins successfully installed a new international docking adapter Friday morning during a five hour and 58-minute spacewalk. Japanese astronaut Takuya Onishi assisted the duo from inside the station, while all three cleaned up the Quest airlock afterward where they stowed their spacesuits and tools.
Williams is scheduled to return to Earth on Sept. 6 with cosmonauts Oleg Skripochka and Alexey Ovchinin ending Expedition 48. The two cosmonauts began their departure preparations today to get the Soyuz TMA-20M spacecraft ready for undocking and landing in Kazakhstan.
Before Expedition 48 returns home in two weeks the SpaceX Dragon spacecraft will leave the station this Friday at 6:10 a.m. EDT. The crew is loading the space freighter with gear and science for analysis by NASA engineers on the ground. Dragon will splashdown in the Pacific Ocean a few hours after its release Friday and be retrieved by SpaceX personnel.