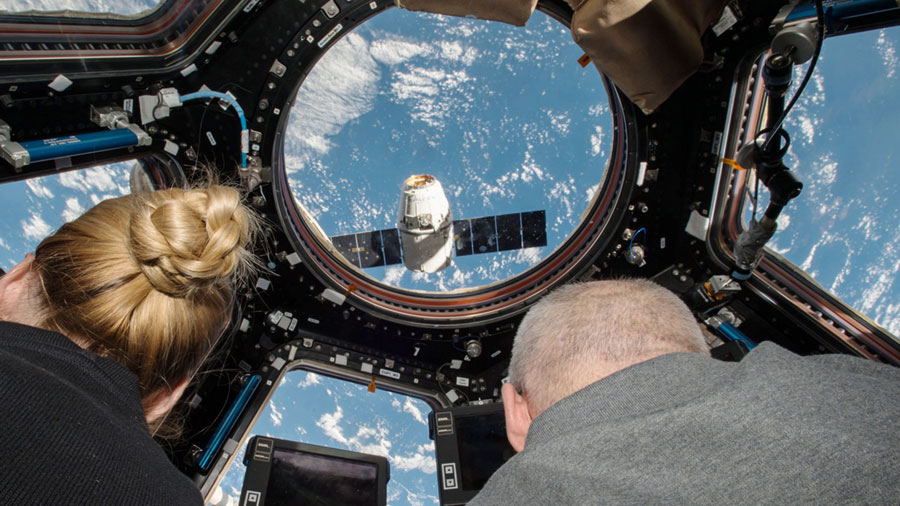 NASA Television will provide live coverage of the departure of the SpaceX Dragon spacecraft from the International Space Station beginning at 5:45 a.m. EDT. Dragon was detached from the Earth-facing side of the station's Harmony module last night by robotics controllers who maneuvered Dragon into place for its release under the control of and Expedition 48 Flight Engineers Takuya Onishi of JAXA and Kate Rubins of NASA at 6:10 a.m. EDT.
Dragon launched to the space station July 18 from Cape Canaveral Air Force Station in Florida carrying almost 5,000 pounds of supplies and cargo on SpaceX's ninth commercial resupply mission to the station for NASA. The spacecraft arrived at the station two days later.
Among the cargo delivered was the first of two International Docking Adapters (IDA) that will enable future commercial spacecraft under NASA's Commercial Crew Program to dock to the space station, including Boeing's CST-100 Starliner and SpaceX's Crew Dragon. The IDA was installed Aug. 19 during a six-hour spacewalk by NASA astronauts Jeff Williams and Rubins. The second IDA is being built and will be delivered to the space station no earlier than SpaceX CRS-14.
Release of the spacecraft by the station's robotic arm will begin the Dragon's return to Earth carrying more than 3,000 pounds of NASA cargo and science samples from human research, biology and biotechnology studies, physical science investigations and education activities sponsored by NASA and the Center for the Advancement of Science in Space, the nonprofit organization responsible for managing research aboard the U.S. national laboratory portion of the space station.
The capsule is currently scheduled to splashdown in the Pacific Ocean about 11:47 a.m. EDT, approximately 326 miles west of Baja California.
Keep up with the International Space Station, and its research and crew members, at: www.nasa.gov/station
Get breaking news, images, videos and features from the station on social media at:
https://www.facebook.com/ISS
https://instagram.com/iss
https://www.twitter.com/Space_Station