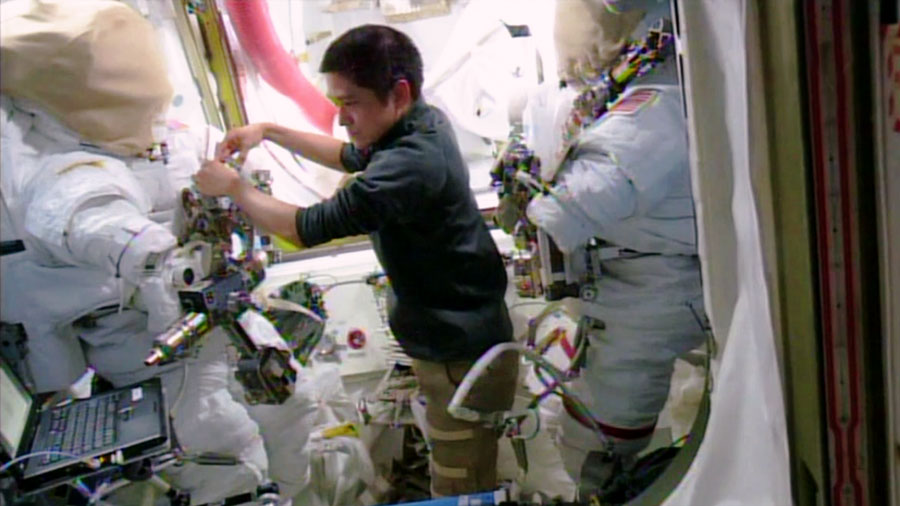 NASA astronauts Jeff Williams and Kate Rubins are ready for Thursday morning's spacewalk scheduled to begin at 8:05 a.m. EDT and last 6.5 hours. The duo will retract and cover an out-of-service thermal control radiator, tighten struts on a solar array rotary joint and install a high-definition camera.
The spacewalkers finished collecting their tools and reviewing their timeline this morning. Japanese astronaut Takuya Onishi will assist the pair today getting the Quest airlock ready and tomorrow helping them in and out of their spacesuits.
Cosmonauts Alexey Ovchinin and Anatoly Ivanishin were back at work today exploring how bones and the immune system are impacted by living in space. Oleg Skripochka researched how the digestive system adapts and how humans experience pain during a long-term space mission.
After the completion of Thursday's spacewalk, the crew will turn its attention to the Sept. 6 departure of Expedition 48 crew members Williams, Skripochka and Ovchinin. The trio continue loading the Soyuz TMA-20M spacecraft and getting their launch and entry suits ready. They will undock from the Poisk module and land in Kazakhstan after 5-1/2 months on orbit.