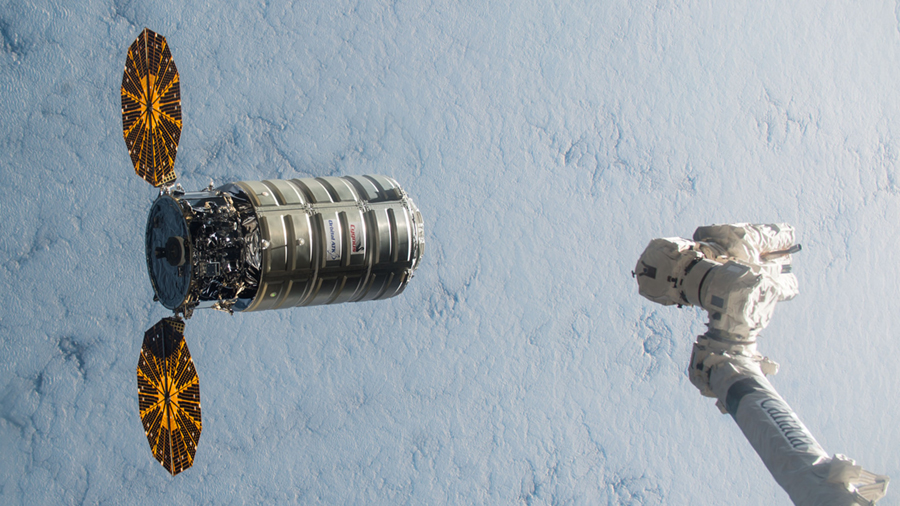 Mission managers are targeting the Oct. 9-13 timeframe for the launch of the sixth Orbital ATK resupply mission to the International Space Station. A pair of astronauts onboard the station are also training for the robotic capture of the Cygnus resupply ship from Orbital ATK when it arrives about two days after launch.
Cygnus' primary mission is to deliver about 2,400 kilograms of supplies and science experiments to the Expedition 49 crew. When Cygnus departs the station about a month later it will participate in secondary missions including combustion research and deploying CubeSats for weather forecasting before reentering Earth's atmosphere.
Astronauts Kate Rubins and Takuya Onishi called down to ground controllers today to review and train for next month's planned arrival of the Cygnus. The duo will be in the cupola monitoring the Cygnus' rendezvous and approach before grappling and installing the spacecraft with Canada's robotic arm Canadarm2.
The duo also collected saliva samples for stowage in a science freezer and participated in body mass measurements. Commander Anatoly Ivanishin explored new ways to detect pressure leaks on the space station and continued more research into charged particle systems in magnetic fields.
---
Get weekly video highlights at: http://jscfeatures.jsc.nasa.gov/videoupdate/