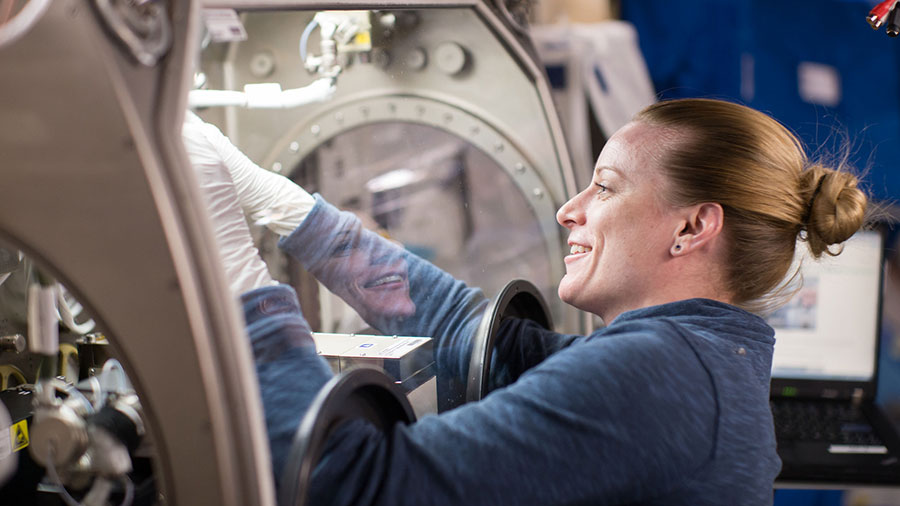 September was a busy month on the International Space Station filled with a wide variety of space research, a spacewalk, a crew departure and a test of the new BEAM module. One science highlight this month includes a new experiment that may improve how medicine works.
This week, astronaut Kate Rubins tested the endurance of the new Bigelow Expandable Aerospace Module in the vacuum of space. She also explored how solids dissolve in liquids to help the medicine industry design better performing drugs for humans on Earth and astronauts in space.
A new fuel burning study is about to start soon after Japanese astronaut Takuya Onishi completes the installation of the Group Combustion experiment. Results from the fire research could help engineers design advanced rocket engines and industrial furnaces. Onishi is also documenting his meals over the next few days for the ENERGY study. Onishi's meal data in conjunction with his water and breath samples will help scientists understand the nutritional requirements necessary for long-term space missions.
Cosmonaut Anatoly Ivanishin, who took command of Expedition 49 on Sept. 6, has been working on the continuous upkeep of the Russian segment of the space station. The veteran cosmonaut has been preparing a Progress resupply ship for its Oct. 14 undocking. Some of the numerous Russian science experiments Ivanishin has been conducting have been observing the condition of the Earth and exploring human research.
---
Get weekly video highlights at: http://jscfeatures.jsc.nasa.gov/videoupdate/