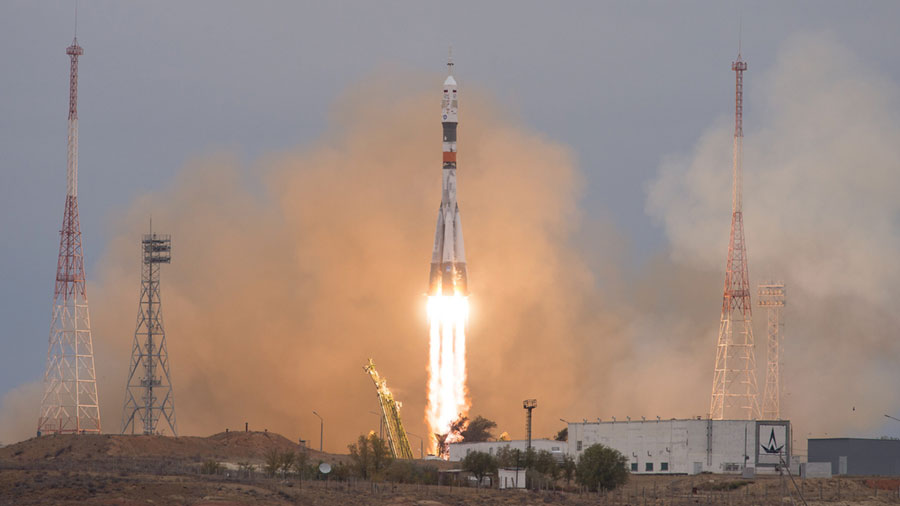 Two spaceships are racing to the International Space Station this weekend. One is delivering about 2,400 kilograms of crew supplies and science gear and another is carrying three new crew members.
The Soyuz MS-02 spacecraft launched from the Baikonur Cosmodrome early Wednesday and will dock to the International Space Station Friday morning. Expedition 49-50 crew members Shane Kimbrough, Andrey Borisenko and Sergey Ryzhikov will enter the Poisk module to begin their mission and live and work in space until February.
Though the Orbital ATK Cygnus resupply ship launched first Monday night from Virginia, it is taking a slower approach to the station and will arrive Sunday. Mission managers decided to let the Cygnus take its time on orbit and let the new crew members arrive first. Japanese astronaut Takuya Onishi will command the 57.7-foot-long Canadarm2 to capture Cygnus while NASA astronaut Kate Rubins backs him up. Ground controllers will then remotely control the robotic arm to install Cygnus to the Unity module for a month-long stay.
The next big mission event will be the departure of Rubins, Onishi and cosmonaut Anatoly Ivanishin. The Expedition 49 crew members have been in space since July and will return to Earth Oct. 29. Ivanishin is packing the Soyuz MS-01 spacecraft with cargo and preparing the vehicle for its undocking and landing in Kazakhstan.
---
Get weekly video highlights at: http://jscfeatures.jsc.nasa.gov/videoupdate/