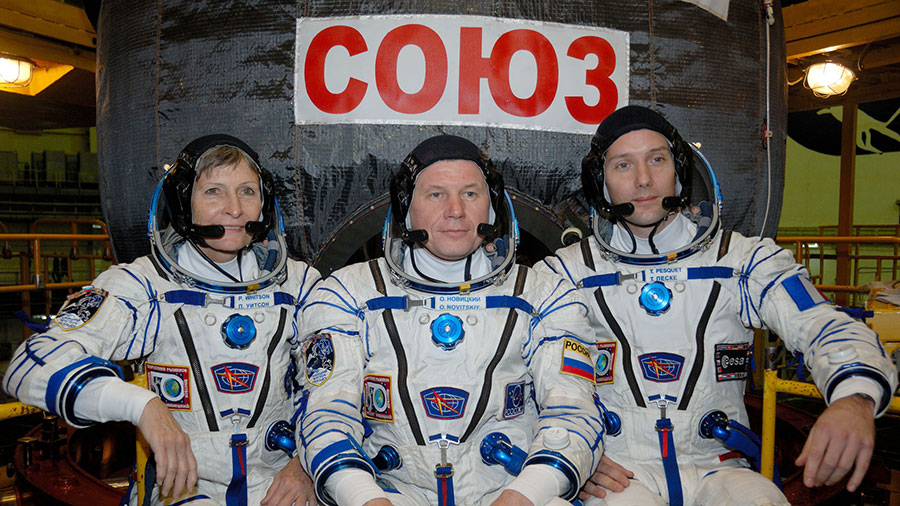 A new set of Expedition 50 crew members is in Kazakhstan just two weeks away from a launch to the International Space Station. The three orbiting station inhabitants are in the second week of their four-month stay in space.
Thomas Pesquet, Peggy Whitson and Oleg Novitskiy have tried on their spacesuits and checked out the Soyuz MS-03 spacecraft they will blast off in Nov. 17. After launch, the trio will take a two-day trip to their new home in space where they will live until May. Today, the new crew is participating in flag-raising and tree-planting ceremonies at the Baikonur Cosmodrome launch site.
The orbiting crew of Commander Shane Kimbrough and Flight Engineers Sergey Ryzhikov and Andrey Borisenko are conducting critical space science while maintaining station systems.
Kimbrough continued transferring cargo from the Cygnus resupply ship that is due to depart in mid-November. The station commander also collected blood and urine samples for stowage in a science freezer then worked on research and plumbing gear.
Ryzhikov researched how humans experience pain in space and unloaded cargo from the new Soyuz MS-02 spacecraft. Borisenko, who is on his second station mission, checked out Russian life support systems and completed a questionnaire documenting the interactions of station crews and mission controllers on the ground.
---
Get weekly video highlights at: http://jscfeatures.jsc.nasa.gov/videoupdate/