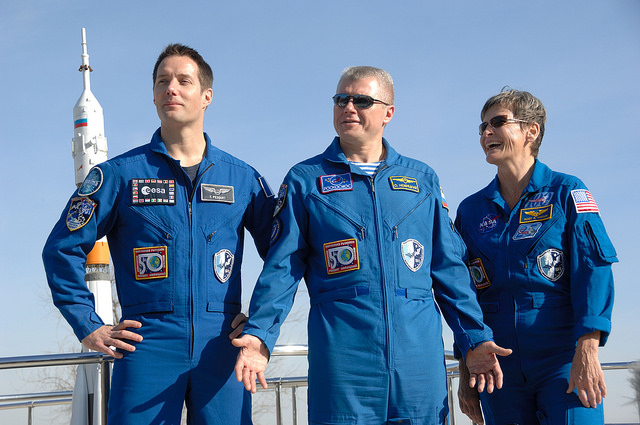 The three Expedition 50 crew members today are working to unload cargo and set up new computer servers onboard the station. In Kazakhstan, the next trio to launch to the International Space are continuing their final prelaunch preparations.
Commander Shane Kimbrough completed work on Wednesday on the Oxygen Generation System (OGS) in the U.S. side of the International Space Station. The OGS was down for maintenance as he and ground specialists troubleshot the device due to a low voltage signature. Teams in Mission control conducted checkouts of the system today and reactivated it successfully, enabling OGS to once more supply oxygen to the space station crew. Final checkouts on the system are on the plan for Friday.
Today, Kimbrough set up new laptop computers to allow ground specialist to load required software. He also unloaded additional cargo from the attached Orbital ATK Cygnus cargo craft.
Cosmonauts Sergey Ryzhikov and Andrey Borisenko performed routine maintenance on the ventilation system inside the Russian segment and took part in the Pilot-T experiment, which assesses the cosmonauts ability to perform complex tasks at different points during their spaceflight.
Three new station crew members are in Kazakhstan preparing for a Nov. 17 launch to the station. Veteran station residents Peggy Whitson of NASA and Oleg Novitskiy of Roscosmos, along with first-time space flyer Thomas Pesquet of the European Space Agency will take a two-day, 34-orbit trip to the station after their liftoff and stay in space till May. The group reviewed flight plans and took part in traditional preflight events, including a media day and the ceremonial raising of flags and planting of trees.
---
Get weekly video highlights at: http://jscfeatures.jsc.nasa.gov/videoupdate/