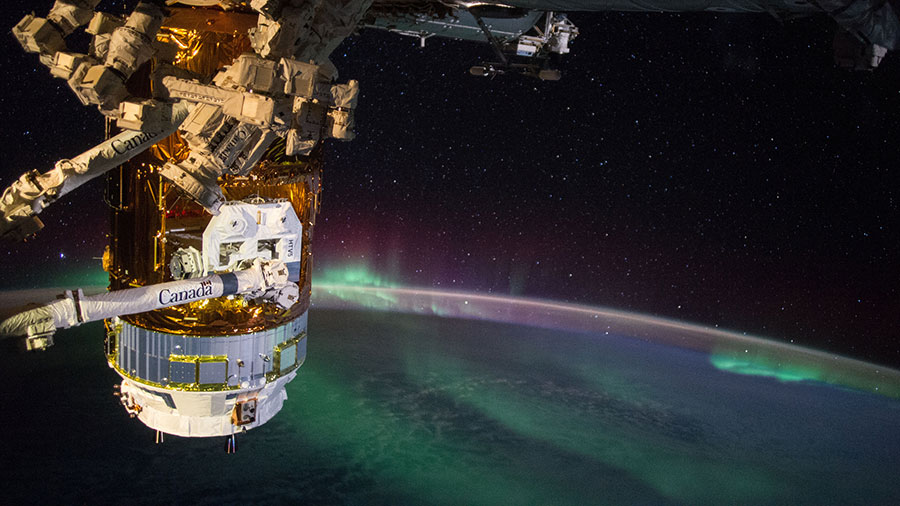 The six crew members aboard the International Space Station are getting ready for the arrival of new resupply ship early Tuesday. The crew is also exploring human research and physics and cleaning spacesuits.
Japan's sixth cargo craft, the Kounotori HTV-6, has been orbiting Earth and chasing the International Space Station for three days after its launch from the Tanegashima Space Center last week. It will arrive Tuesday morning at 6 a.m. EST for a robotic capture and installation to the Harmony module. NASA TV will cover the events live beginning Tuesday at 4:30 a.m.
Astronauts Shane Kimbrough and Thomas Pesquet will be in the cupola Tuesday morning commanding the Canadarm2 robotic arm to grapple the HTV-6 while monitoring its approach. After its successful capture, ground controllers will remotely guide the 57.7-foot-long robotic arm with the HTV-6 in its grasp and begin the careful, methodical process of attaching the cargo craft to Harmony's Earth-facing port where it will stay until January.
The six-member Expedition 50 crew in the meantime is continuing advanced space research to improve the health of astronauts in space and benefit life on Earth. The crew collected blood and urine samples today so scientists can analyze health changes an astronaut goes through before, during and after a spaceflight. The samples were collected for the Biochemical Profile, Repository and Multi-Omics experiments.
The crew also checked gear that enables the observation of fuel burning in space for the Group Combustion study. The gas supply was also swapped inside the Electrostatic Levitation Furnace that observes how different materials melt in space.
NASA astronaut Peggy Whitson scrubbed the cooling loops and collected water samples from inside two U.S. spacesuits. The spacesuits will be used for a pair of battery maintenance spacewalks scheduled for the beginning of January.
For more information on previous HTV missions from JAXA to the space station visit:
---
Get weekly video highlights at: http://jscfeatures.jsc.nasa.gov/videoupdate/