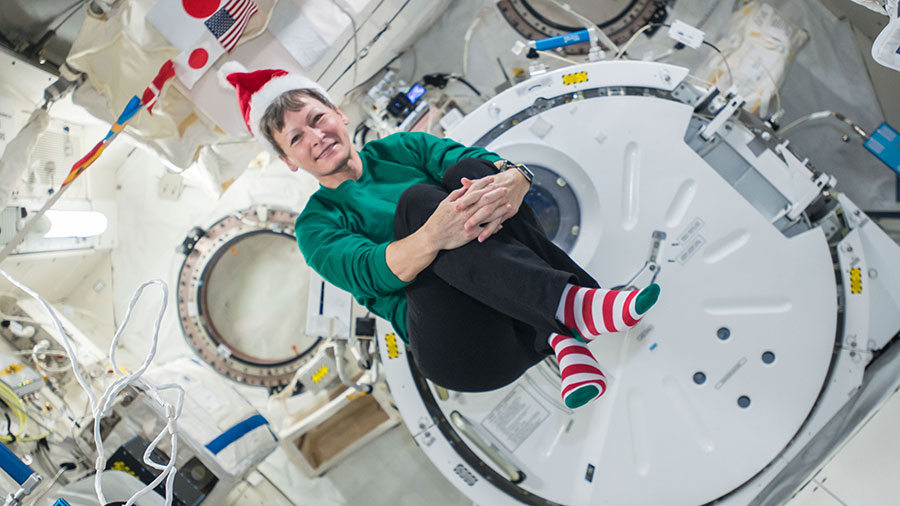 The six-member Expedition 50 crew from France, Russia and the U.S. is heading into the holiday weekend with spacesuit checks and eye studies. The international crew will share a Christmas meal, enjoy a light-duty weekend and take Dec. 26 off.
Commander Shane Kimbrough scrubbed cooling loops and tested the water in a pair of U.S. spacesuits today. Kimbrough and Flight Engineers Peggy Whitson and Thomas Pesquet are getting ready for a pair of spacewalks on Jan. 6 and 13. The spacewalks, in conjunction with remote robotics work, will complete the replacement of old nickel-hydrogen batteries with new lithium-ion batteries on the station's truss structure.
Whitson, who is spending her second Christmas in space, and Pesquet drew blood, urine and saliva samples for the Fluid Shifts study. That experiment investigates the upward flow of body fluids in space potentially causing lasting vision changes in astronauts.
In the Russian segment of the International Space Station, the three cosmonauts primarily worked on maintenance tasks and science work. Oleg Novitskiy worked on communications gear and experimented with space photography techniques. Sergey Ryzhikov worked on water transfers and a cardiac study. Andrey Borisenko worked on life support equipment before studying how a crew member learns to orient themselves in microgravity.