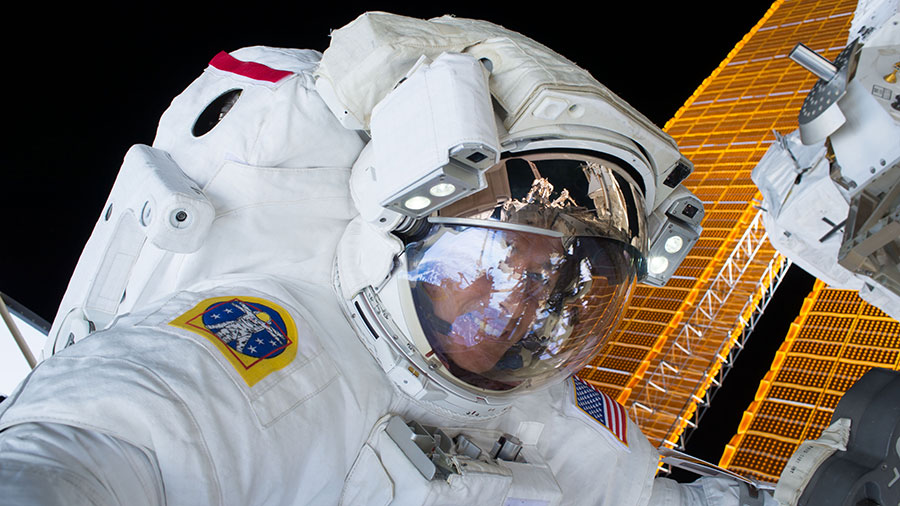 Commander Shane Kimbrough is getting ready for his second spacewalk in a week to complete the upgrade of power systems on the International Space Station. He will be joined by Thomas Pesquet from the European Space Agency who will be conducting his first spacewalk.
The spacewalking duo are partnering up today with NASA astronaut Peggy Whitson to review Friday morning's spacewalk. Whitson, who completed her seventh spacewalk last Friday, and cosmonaut Oleg Novitskiy will be assisting the spacewalkers in and out of their spacesuits and the Quest airlock.
Late yesterday and last night robotic ground controllers used the Dextre Special Purpose Dexterous Manipulator to move the final lithium-ion battery to the 1A power channel Integrated Electronics Assembly, moved another nickel-hydrogen battery to one of Dextre's arms for temporary stowage and tightened down bolts on two of the previously moved Li-ion batteries.
So, we now have five nickel-hydrogen batteries either on the HTV External Pallet or temporarily stowed on Dextre and one more Ni-H battery to move from the 1A IEA to another stowage position on Dextre later today to complete the pre-EVA robotics. All six new lithium-ion batteries are now installed on the S4 truss IEA. The 3A power channel is fully operational. The 1A power channel will be activated on Friday during the EVA after adapter plates are moved into place on the 1A IEA.
Post-EVA robotics on Saturday and Sunday will complete the work to move the last four old Ni-H batteries from Dextre to the External Pallet for disposal (there will be nine on the EP in all). They will burn up in the Earth's atmosphere when the HTV is deorbited.
Whitson and Pesquet started their day scanning their arteries with and ultrasound and collecting body fluid samples for the Cardio Ox study. That experiment is researching the increased risk of atherosclerosis, the plaque build-up in the artery wall that results in narrowing of the blood vessel, in astronauts living in space.
In the Russian segment of the space station, cosmonaut Sergey Ryzhikov set up gear for a Matryoshka radiation detection experiment. Veteran cosmonaut Andrey Borisenko studied how mission events affect the station structure and explored new Earth photography techniques.
---
Get weekly video highlights at: http://jscfeatures.jsc.nasa.gov/videoupdate/