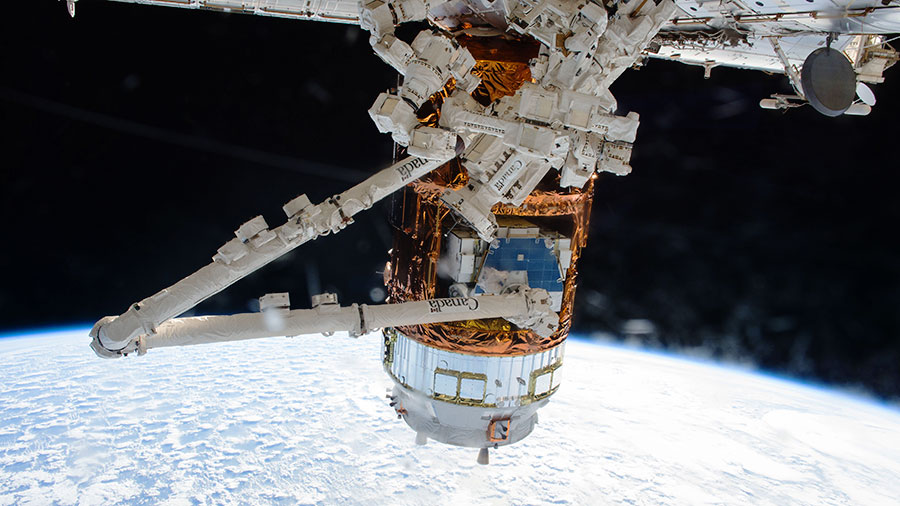 Mission controllers are preparing to release Japan's Kounotori cargo ship from the International Space Station at the end of the week. Meanwhile, the Expedition 50 crew is getting ready for a new protein crystal experiment and reconfiguring combustion science gear.
The Japan Aerospace Exploration Agency is getting ready to complete its sixth cargo mission to the station. Overnight, robotics controllers maneuvered Canada's 57.7-foot-long robotic arm holding an external pallet with discarded nickel-hydrogen batteries and installed them inside the Japanese cargo ship for disposal.
Next, the Canadarm2 will release Japan's HTV-6 resupply ship from the Harmony module Friday for a fiery re-entry back in Earth's atmosphere. The HTV-6 arrived Dec. 13 four days after its launch from the Tanegashima Space Center carrying crew supplies, new science experiments and lithium-ion batteries to upgrade the station's power supply.
The California-based space company SpaceX is planning its tenth station cargo mission. The Dragon cargo craft will deliver a new experiment to study protein crystals to help scientists design better drugs to fight diseases. In advance of the Dragon delivery, Astronaut Peggy Whitson set up the Light Microscopy Module with new lenses today to get ready for the new experiment installation.
Commander Shane Kimbrough is getting the Combustion Integrated Rack ready for the Cool Flames Investigation (CFI). That study will observe how fuels burn at lower temperatures with no visible flames. CFI may engineers develop advanced engines and fuels and improve crew safety.
---
Get weekly video highlights at: http://jscfeatures.jsc.nasa.gov/videoupdate/