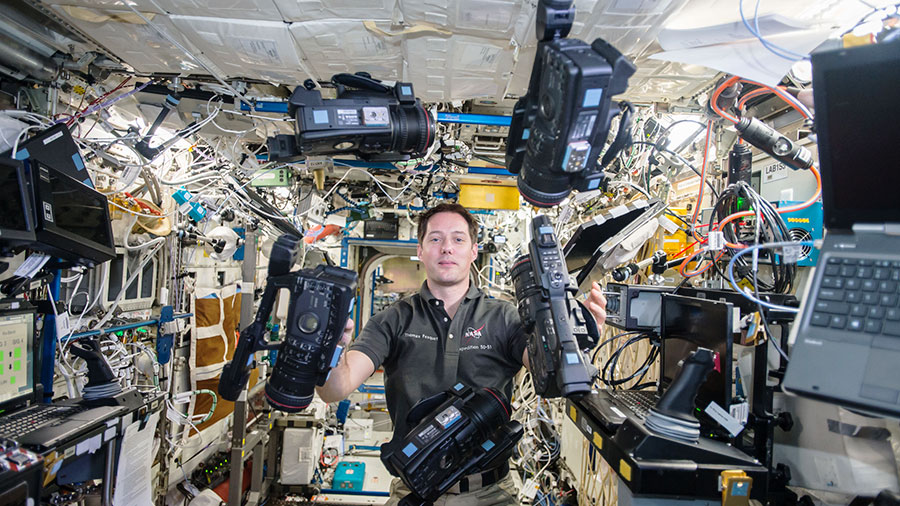 The Expedition 50 crew members explored a variety of space phenomena today to help researchers improve life for humans and stimulate children's curiosity in science, technology, engineering and mathematics.
Scientists are working to understand how fluids behave not just in spacecraft fuel tanks and containers but also inside an astronaut's body. Microgravity creates a headward flow of fluids that increases pressure on the back of an astronaut's eyes potentially causing damage and affecting vision.
NASA astronaut Peggy Whitson and her Soyuz crewmates Oleg Novitskiy and Sergey Ryzhikov explored the effectiveness of a suit that may reverse these upward fluid shifts. Whitson and Novitskiy used a combination of eye exams and ultrasound artery scans on Ryzhikov today while he wore the Lower Body Negative Pressure (LBNP) suit today. The LBNP may offset the microgravity-induced fluid shifts possibly reducing the risk of vision changes in space.
Commander Shane Kimbrough reached out to schoolchildren this morning reading a story book and videotaping a simple fluids experiment. The Story Time From Space series seeks to increase science literacy by engaging students and teachers.
---
Get weekly video highlights at: http://jscfeatures.jsc.nasa.gov/videoupdate/