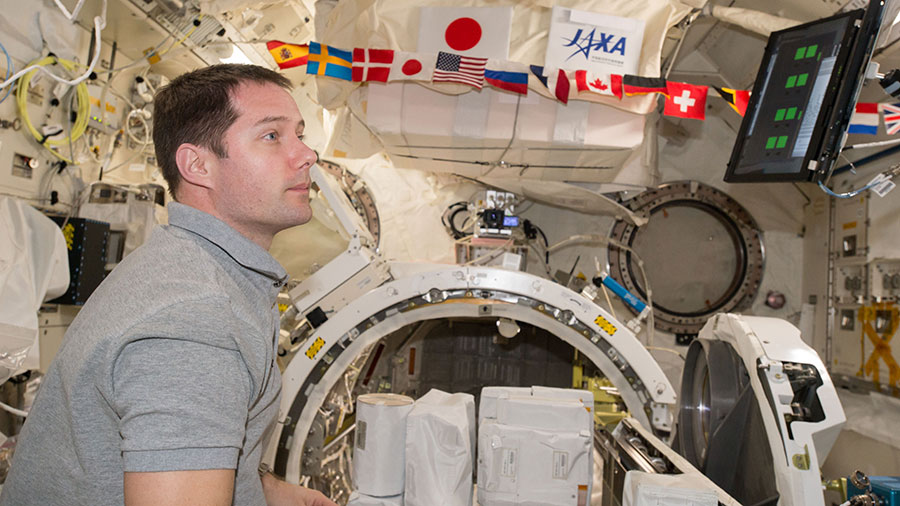 The Expedition 50 crew trained today for the robotic capture of the SpaceX Dragon and studied how the brain adapts to living in space. Three crew members also conducted an emergency drill aboard the International Space Station.
Flight Engineers Peggy Whitson and Thomas Pesquet joined Commander Shane Kimbrough to study the robotics maneuvers they will use when the SpaceX Dragon resupply ship arrives later this month. Dragon is targeted to liftoff mid-February atop a Falcon 9 rocket from Launch Pad 39A at Kennedy Space Center. The tenth commercial resupply mission from SpaceX will deliver advanced space research to improve disease-fighting drugs, observe Earth's climate and automate spacecraft navigation.
Whitson also set up magnetic resonance brain imaging hardware for the NeuroMapping experiment. The study, which has been ongoing since 2014, is exploring changes in the brain and how an astronaut's cognition, perception and motion are affected by long-term space missions.
Veteran station residents Oleg Novitskiy and Whitson along with first-time space flyer Pesquet practiced an emergency Soyuz descent today. The trio entered their Soyuz MS-03 spacecraft and simulated a scenario in the unlikely event the crew would have to evacuate the station quickly and return to Earth.
---
Get weekly video highlights at: http://jscfeatures.jsc.nasa.gov/videoupdate/