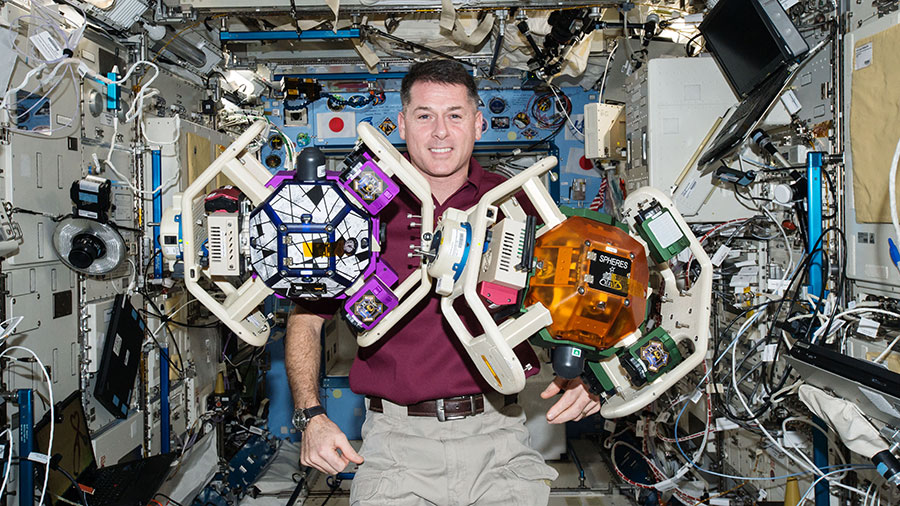 SpaceX has announced no earlier than Feb. 18 for the launch of its tenth commercial resupply mission to the International Space Station. Dragon will be loaded with advanced space science and will launch atop a Falcon 9 rocket from Launch Pad 39A at Kennedy Space Center.
Commander Shane Kimbrough and Flight Engineer Thomas Pesquet will command the Canadarm2 to capture Dragon when it arrives about two days later. NASA astronaut Peggy Whitson will assist the duo and monitor Dragon as it approaches the station for a month-long stay.
The crew took a break from SpaceX preparations today and focused on a wide variety of science work. Kimbrough set up a pair of tiny internal satellites known as SPHERES and tested their ability to perform automated docking maneuvers. The tests will assist in the development of computer vision tracking algorithms possibly helping in the recovery of space debris.
Pesquet and Whitson worked in the afternoon to swap a gas bottle inside the Combustion Integrated Rack. The rack, located in the U.S. Destiny laboratory module, enables safe research into how fuels and other materials burn in space.
---
Get weekly video highlights at: http://jscfeatures.jsc.nasa.gov/videoupdate/