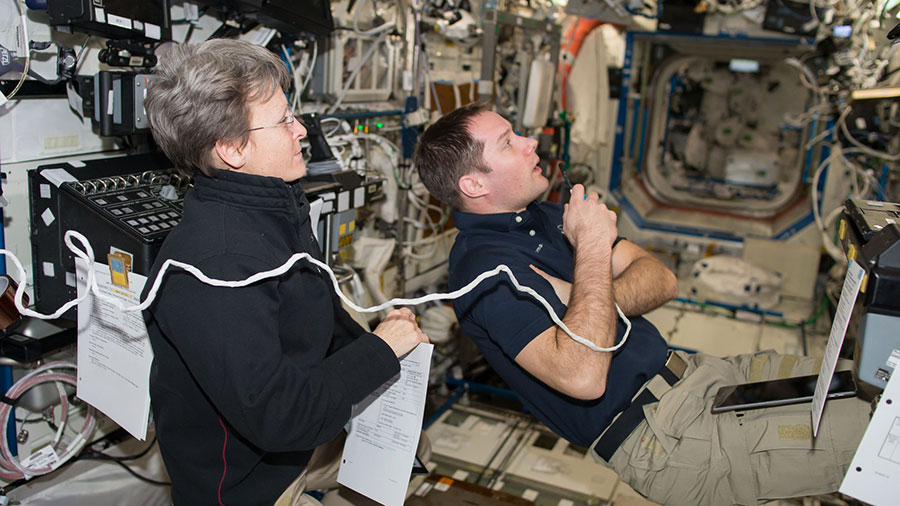 The International Space Station is continuing to receive software updates to improve its spacecraft communications and navigation systems. Meanwhile, the astronauts today are setting up new life science gear and testing the docking ability of tiny internal satellites.
New software is being uplinked and installed on the station this week to increase the communications and control of approaching spacecraft. The crew will also replace portable computer hard drives with new ones after the software transition.
SpaceX is looking to launch its Dragon cargo craft no earlier than Feb. 18 on a two-day trip to deliver crew supplies and new science experiments to the Expedition 50 crew. One study being shipped on Dragon will explore healing and tissue regeneration to fight bone and tissue loss in space. Habitats with telemetry and video were installed for the study and will house rodents being launched aboard Dragon.
A pair of bowling ball-sized satellites, known as SPHERES, were deployed inside the Kibo lab module to test new algorithms and docking techniques. The SPHERES (Synchronized Position Hold, Engage, Reorient, Experimental Satellites) are used for numerous experiments including today's study to demonstrate the ability for future spacecraft to autonomously dock and undock.