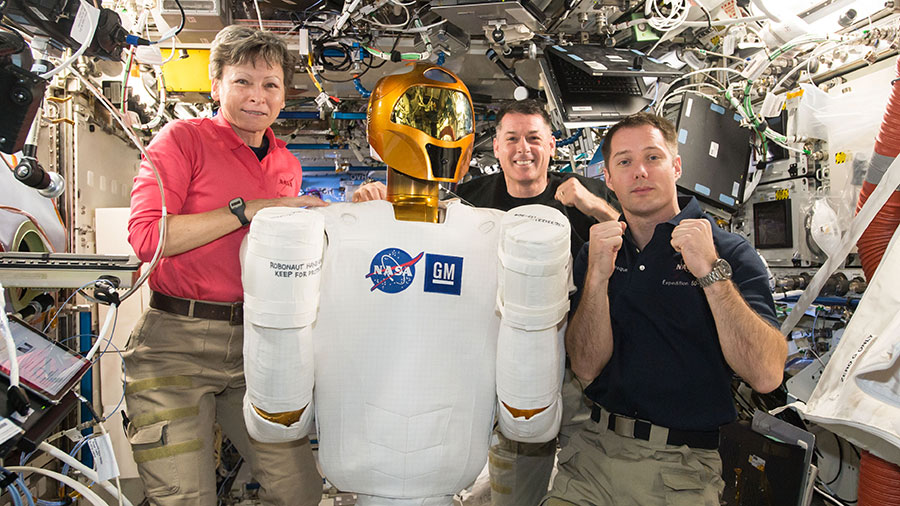 Three Expedition 50 crew members practiced today the robotic capture of the SpaceX Dragon resupply ship when it arrives at the International Space Station two days after its launch. A humanoid robot, better known as Robonaut, had its power supply checked out during a full day of troubleshooting.
Commander Shane Kimbrough and Flight Engineer Thomas Pesquet partnered up and practiced capturing the Dragon cargo ship using the Canadarm2 robotic arm. The duo will be in the cupola Monday morning to capture Dragon following its 10:01 a.m. EST Saturday launch from Kennedy Space Center. NASA astronaut Peggy Whitson will assist her crewmates and monitor Dragon's approach and rendezvous.
Dragon is packing nearly 5,500 pounds of crew supplies, station gear and advanced science experiments. Some of the research will look at new technologies to improve space travel, observation gear to study Earth's ozone and processes to improve how medicine works.
Whitson worked throughout the day on the robotic astronaut assistant, Robonaut. She opened up Robonaut's torso and checked its cables and computer cards searching for an intermittent fault in its power supply. Robonaut is being tested for its ability to assist astronauts in the future with routine tasks and high risk activities.
---
Get weekly video highlights at: http://jscfeatures.jsc.nasa.gov/videoupdate/