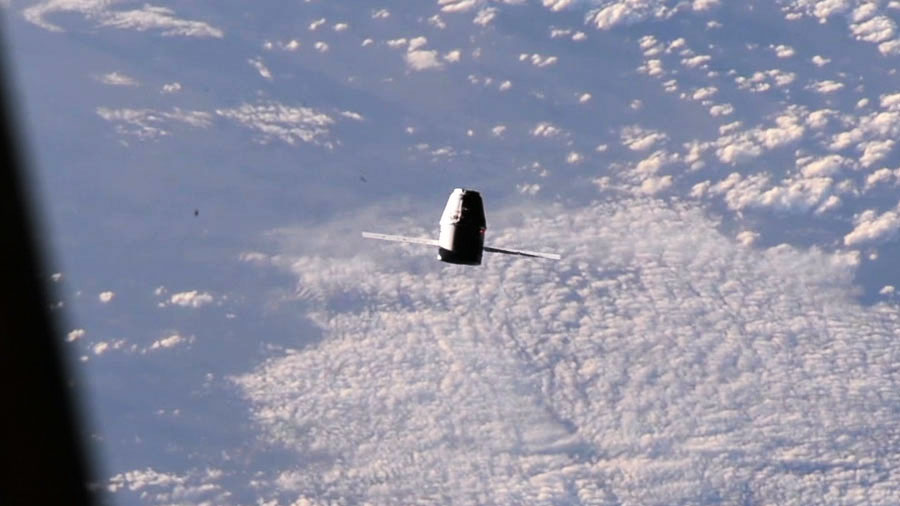 NASA and SpaceX flight controllers in Houston and Hawthorne, California are reworking plans for the arrival Thursday of the SpaceX Dragon cargo craft after its rendezvous to the International Space Station was aborted early Wednesday morning. The Dragon's computers received an incorrect navigational update, triggering an automatic wave off.
Dragon was sent on a "racetrack" trajectory in front of, above and behind the station for a second rendezvous attempt Thursday.  Dragon is in excellent shape and neither the crew nor the station were in any danger.  NASA TV will cover its second rendezvous attempt Thursday beginning at 4 a.m. EST.
Expedition 50 commander Shane Kimbrough and Thomas Pesquet will be back in the cupola Thursday waiting to capture Dragon at around 6 a.m. Flight Engineer Peggy Whitson will be assisting the duo monitoring Dragon's arrival and its systems.
A few hours before Dragon aborted its rendezvous, Russia launched its Progress 66 (66P) resupply ship from Kazakhstan on a two-day trip to the station's Pirs docking compartment. The 66P is carrying nearly three tons of food, fuel and supplies to the six-member Expedition 50 crew. It will arrive Friday for an automated docking at 3:34 a.m. and stay at the station until June. NASA TV will also cover its arrival starting at 2:45 a.m.