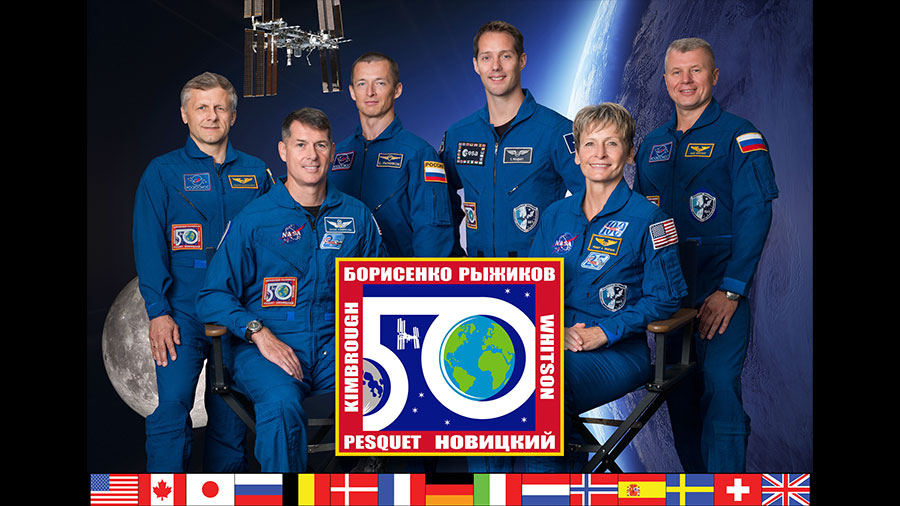 The International Space Station will boost its orbit Wednesday night to get ready for a crew swap next month. Three Expedition 50 crew members will complete their mission and a new two-person crew will launch to the station in April.
Commander Shane Kimbrough and his crewmates Sergey Ryzhikov and Andrey Borisenko will end their mission April 10 after 173 days in space. The trio will undock from the Poisk mini-research module in their Soyuz MS-02 spacecraft officially ending the Expedition 50 mission.
The reboost also readies the station for the arrival of two new crew members who will arrive April 20. Veteran cosmonaut Fyodor Yurchikhin and NASA astronaut Jack Fischer, a first-time space flyer, will take a short four-orbit ride aboard the Soyuz MS-04 spacecraft and dock to Poisk. The new Expedition 51 trio is scheduled to stay in space for 136 days.
NASA astronaut Peggy Whitson will become Expedition 51 commander after Kimbrough and his crew undock. She is staying behind with fellow crewmates Thomas Pesquet from France and Oleg Novitskiy from Russia. They will stay in space until June 2 ending their mission after 195 days when they return home in their Soyuz MS-03 spacecraft.
Engineers on the ground switched from one pump to another in the thermal cooling system for one of the particle detectors on the Alpha Magnetic Spectrometer (AMS), an experiment to study cosmic ray particle physics from the outside of the International Space Station. The silicon tracker is one of several detectors that collect data on cosmic particles and is equipped with four redundant pumps used to circulate carbon dioxide to maintain the required temperature in the changing thermal environment outside the station. A pump stopped functioning on Tuesday, Feb. 28, 2017, and was the second to stop after a different pump experienced a similar issue in March, 2014. Only one pump is required to operate at a given time, and long-term planning is underway to potentially bypass the pumps and associated equipment with an upgraded system put in place during a series of spacewalks. AMS launched in 2011, and results have already contributed to science showing potential indirect evidence of dark matter and other new cosmic ray particle physics discoveries.
---
Get weekly video highlights at: http://jscfeatures.jsc.nasa.gov/videoupdate/