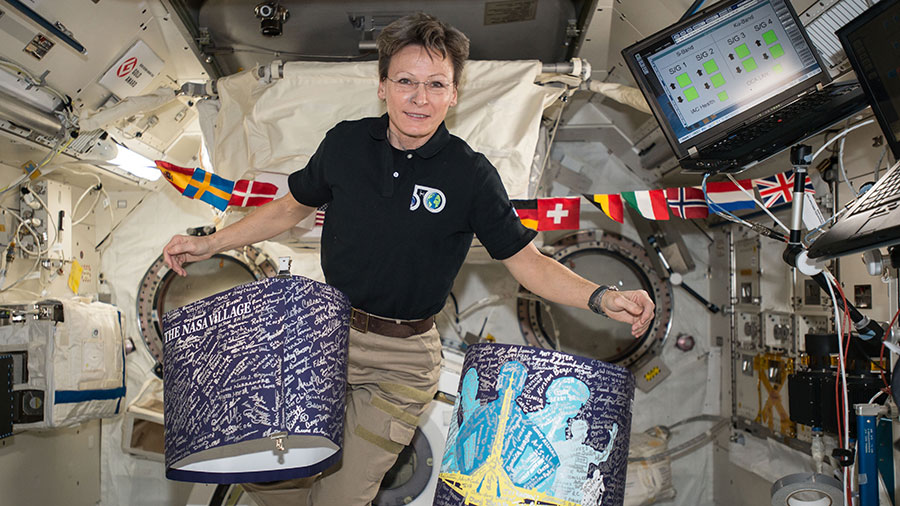 Three Expedition 50 crew members recently surpassed 100 days in space and will come home in June. Also, SpaceX Dragon external experiments are being unloaded for installation on the International Space Station.
NASA astronaut Peggy Whitson has been living in space with her Expedition 50 crewmates for over 100 days now. She and Thomas Pesquet from the European Space Agency and Oleg Novitskiy from Roscosmos will return to Earth June 2 after 197 days in space. The trio launched Nov. 17 beginning a two-day trip to the station.
Whitson has reached out to her supporters on the ground and mentioned them with her "NASA Village" campaign from space. She launched to the station with posters signed by hundreds of support personnel and recently showed them off on orbit.
Watch Peggy Whitson describe the "NASA Village"
Visit Peggy Whitson's Facebook page
A pair of Earth observation experiments delivered last week on the SpaceX Dragon have been robotically removed from the resupply ship. Both experiments will be installed on specialized pallets on the outside of the orbital laboratory and activated for years of research.
The first experiment, SAGE-III, will observe how tiny particles interact with Earth's sunscreen, or ozone, possibly affecting the climate. The second, Lightning Image Sensor, will monitor lightning around the globe to improve weather forecasting, enhance climate models and increase aviation safety.
---
Get weekly video highlights at: http://jscfeatures.jsc.nasa.gov/videoupdate/