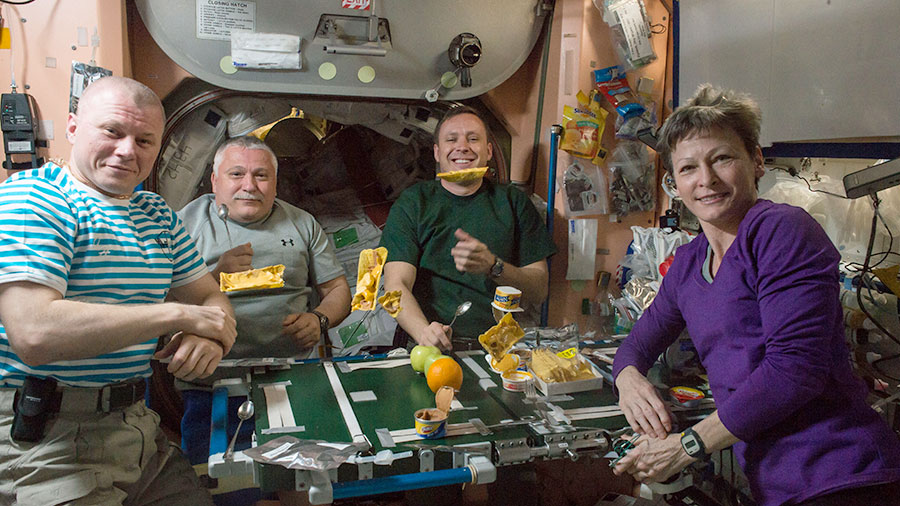 The International Space Station raised its orbit today to get ready for a June crew departure. The first of two orbital reboosts comes just a week after two new crew members arrived to begin their mission with Expedition 51.
Flight Engineers Oleg Novitskiy and Thomas Pesquet will return to Earth June 2 ending the Expedition 51 mission. Expedition 52 will begin and veteran cosmonaut Fyodor Yurchikhin will stay behind with NASA astronauts Peggy Whitson and Jack Fischer waiting for the next crew arrival on July 28.
The current orbiting crew of five Expedition 51 crew members continued more biomedical research and eye checks today. The crew underwent a series of ultrasound scans and eye tests to learn how living in space affects vision. The astronauts are subjects of ongoing studies to help NASA plan missions farther out in space for longer periods of time.
One symptom of living in space for long periods is the pressure that builds up behind astronauts' eyes due to the upward flow of fluids. Doctors are seeking to counteract this flow after some astronauts have reported vision problems during and after their long-term missions.
---
Get weekly video highlights at: http://jscfeatures.jsc.nasa.gov/videoupdate/