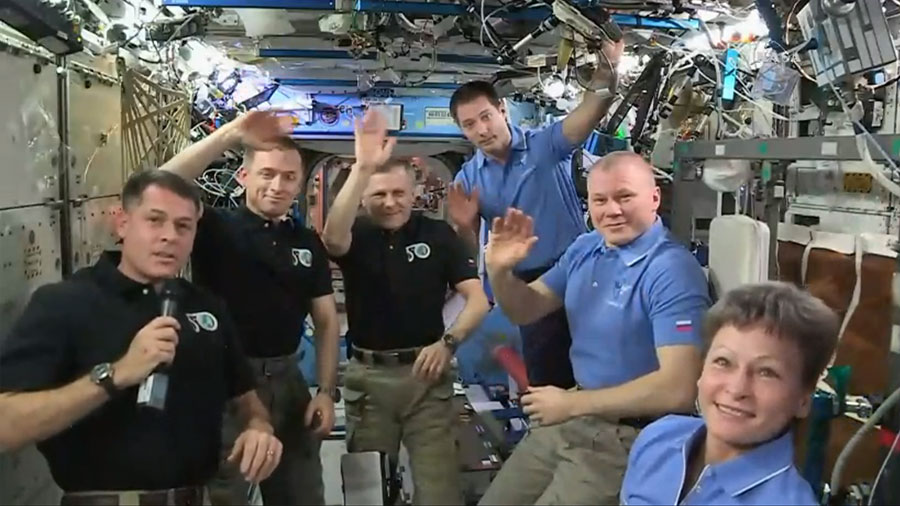 NASA astronaut Shane Kimbrough, and his crewmates Sergey Ryzhikov and Andrey Borisenko of Roscosmos, are scheduled to return to Earth on Monday, April 10 at 7:21 a.m. EDT (5:21 p.m. Kazakhstan time). The trio will land in their Soyuz MS-02 spacecraft southeast of the remote town of Dzhezkazgan in Kazakhstan.
Hatch closure is scheduled for 12:40 a.m. tomorrow. NASA Television coverage will begin at 12:15 a.m.
Together, the Expedition 50 crew members contributed to hundreds of experiments in biology, biotechnology, physical science and Earth science during their 171-day stay aboard the orbiting laboratory. In all, the departing trio will have spent 173 days in space since their launch from the Baikonur Cosmodrome in Kazakhstan Oct. 19 last year.
Earlier today, Kimbrough handed over the command of station to NASA astronaut Peggy Whitson. When the spacecraft undocks from station tomorrow, Expedition 51 will formally begin.
NASA Television coverage of Soyuz activities April 10 are listed below. Watch live on NASA's website.
Timeline and NASA TV Coverage
Time (EDT)   Event
12:15 a.m.     NASA TV Coverage of Exp. 50 Farewell and Hatch Closure Begins
12:40 a.m.     Soyuz MS-02/Space Station Hatch Closure
3:30 a.m.       NASA TV Coverage of Soyuz Undocking Begins
3:56 a.m.       Soyuz Undock Command Sent
3:57 a.m.       Soyuz Undocking from International Space Station
4 a.m.            Separation Burn 1
4:01 a.m.       Separation Burn 2
6 a.m.            NASA TV Coverage of Deorbit Burn and Landing
6:28 a.m.       Soyuz Deorbit Burn (4 minutes, 38 seconds duration)
6:55 a.m.       Soyuz Module Separation (altitude ~87 miles)
6:58 a.m.       Soyuz Atmospheric Entry (altitude ~62 miles)
7:06 a.m.       Command to Open Chutes (altitude 6.7 miles)
7:21 a.m.       Exp. 50 Soyuz MS-02 Landing southeast of Dzhezkazgan, Kazakhstan
Follow @space_station on Twitter for updates. For more information about the International Space Station, visit www.nasa.gov/station. To subscribe or unsubscribe from this list, please email heo-pao@lists.nasa.gov.