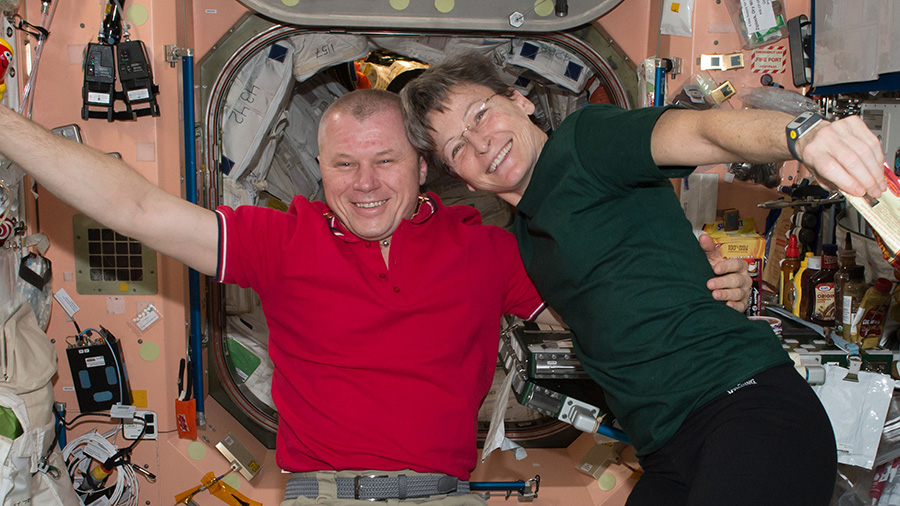 Commander Peggy Whitson and Flight Engineers Thomas Pesquet and Oleg Novitskiy juggled a wide variety of space science and human research Thursday. The Expedition 51 trio also switched roles from orbital scientists to high-flying technicians maintaining the systems of the International Space Station.
Whitson started the day testing her fine motor skills to help researchers understand space adaptation and potentially design future touch-based devices for astronauts. The commander then spent the afternoon on space plumbing and worked on the Water Recovery System that converts urine and sweat into clean drinking water.
Pesquet began his morning observing what happens to materials heated to extreme temperatures. The Electrostatic Levitation Furnace can reveal combustion properties and synthesize materials that are very difficult to produce on Earth. In the afternoon, he studied the different phases of metallic alloys in the Material Science Research Rack.
Novitskiy, who is on his second station mission, worked throughout the day on troubleshooting a computer issue in the Zarya cargo module. Towards the end of the day, he charged computer batteries inside the Soyuz MS-03 spacecraft and flushed water tanks into the Progress 66 cargo craft.