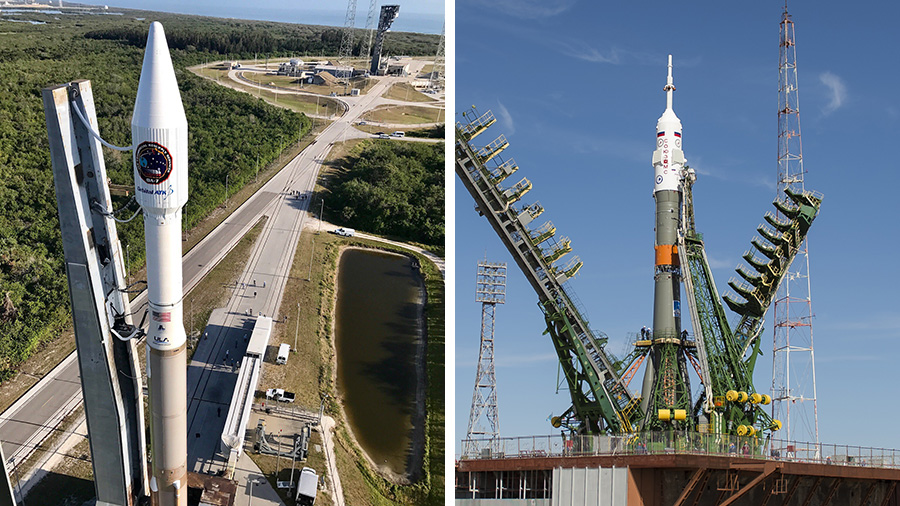 Two rockets on opposite sides of the world rolled out to their launch pads today ready to blast off to the International Space Station. An American rocket rolled out to its pad at Kennedy Space Center in Florida. A Russian rocket was carted by train and raised to its vertical position at the Baikonur Cosmodrome in Kazakhstan.
The Orbital ATK Cygnus spacecraft is stacked atop the Atlas V rocket from United Launch Alliance and ready for its Tuesday launch at 11:11 a.m. EDT from Florida. The seventh contracted Commercial Resupply Services mission for Orbital ATK will deliver over 7,600 pounds science gear and crew supplies to the Expedition 51 crew. Cygnus is due to arrive Saturday morning for a robotic capture and installation to the Unity module.
Two new Expedition 51 crew members will be seated in the Soyuz MS-04 spacecraft when it lifts off from Kazakhstan Thursday at 3:13 a.m. Just six hours and 10 minutes later the duo will dock to the Poisk module to begin a mission expected to last about 4-1/2 months.
Meanwhile, the orbiting trio of Commander Peggy Whitson and Flight Engineers Thomas Pesquet and Oleg Novitskiy are getting ready for the new arrivals and continuing space research. Whitson explored how the brain adapts to microgravity while Pesquet set up hardware to collect body fluid samples for later analysis. Novitskiy focused on systems maintenance in the station's Russian segment.