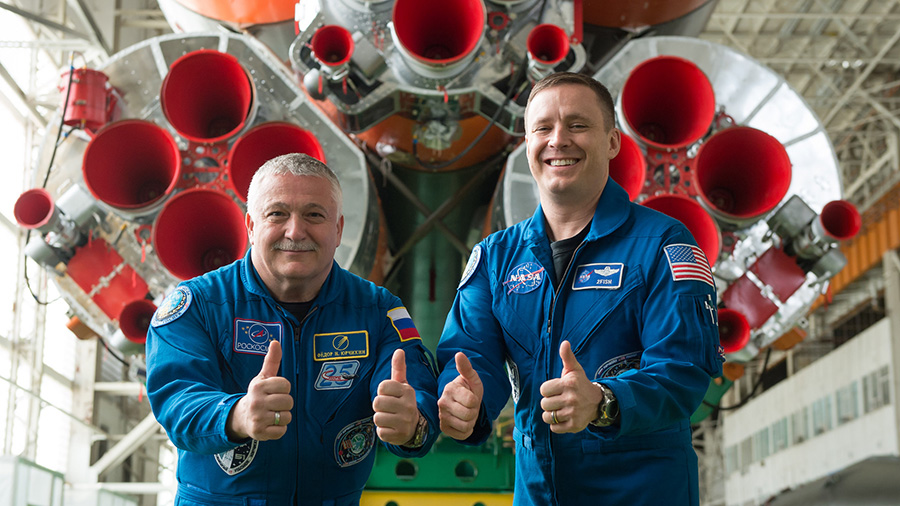 Two Expedition 51 crew members are in quarantine today at the Cosmonaut Hotel in Baikonur, Kazakhstan, getting ready for their liftoff Thursday morning. Meanwhile, new science gear and crew supplies are on orbit right now and headed for the International Space Station this weekend.
Cosmonaut Fyodor Yurchikhin is getting ready for his fifth mission to the space station on Thursday. He will ride to space with NASA astronaut and first-time space flier Jack Fischer aboard the Soyuz MS-04 spacecraft. The duo will launch at 3:13 a.m. EDT from the Baikonur Cosmodrome and take a six-hour, ten-minute ride to the Poisk module's docking port.
Two days after Yurchikhin and Fischer dock and join their Expedition 51 crewmates, the Orbital ATK Cygnus cargo craft will arrive to resupply the orbital laboratory. Cygnus will deliver experiments supporting research into cancer-fighting drugs, semiconductor crystal growth and atmospheric reentry conditions.
Station Commander Peggy Whitson along with Flight Engineer Thomas Pesquet trained for the rendezvous and grapple of the Cygnus cargo ship Saturday morning. The duo practiced on a computer the robotic maneuvers they will use to capture Cygnus with the Canadarm2.