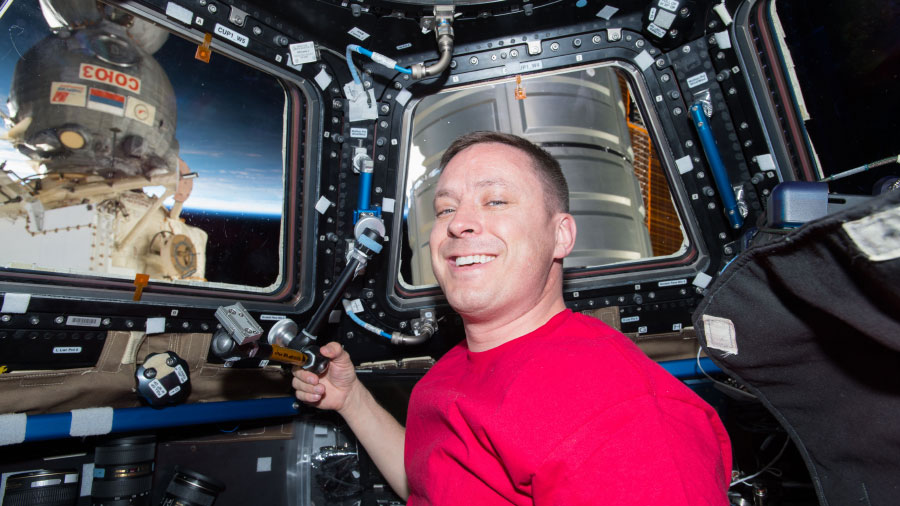 The Expedition 51 crew is getting ready for a spacewalk Friday and working on several scientific investigations. Robotics controllers also swapped out a power relay box over the weekend through a complex and innovative robotic procedure.
Astronauts Peggy Whitson and Jack Fischer will exit the International Space Station for a 6.5-hour spacewalk on Friday. The duo will replace an avionics box that routes command and data information to external science experiments. Friday's spacewalk will be the 200th at the station for assembly and maintenance, the ninth for Whitson and the first for Fischer.
Whitson continued more research today comparing how bones adapt to space versus on Earth. Fischer stowed leaves that were harvested for the Veg-03 botany study and stowed them in a science freezer.
Friday evening and into Saturday, Robotics Ground Controllers maneuvered the Special Purpose Dexterous Manipulator (SPDM) Arms and successfully removed a failed Main Bus Switching Unit-2 and replaced it with a spare. The MBSU in question had stopped communicating telemetry back on April 25 but was still routing power to station systems.
The crew had installed a series of jumpers to power systems connected to the MBSU during the replacement, ensuring no impact to continued station operations. This was the first time an MBSU was swapped out by means other than a spacewalk. Since the successful replacement, the MBSU was powered up and checked out successfully with all station systems back to nominal power configuration.
---
Get weekly video highlights at: http://jscfeatures.jsc.nasa.gov/videoupdate/