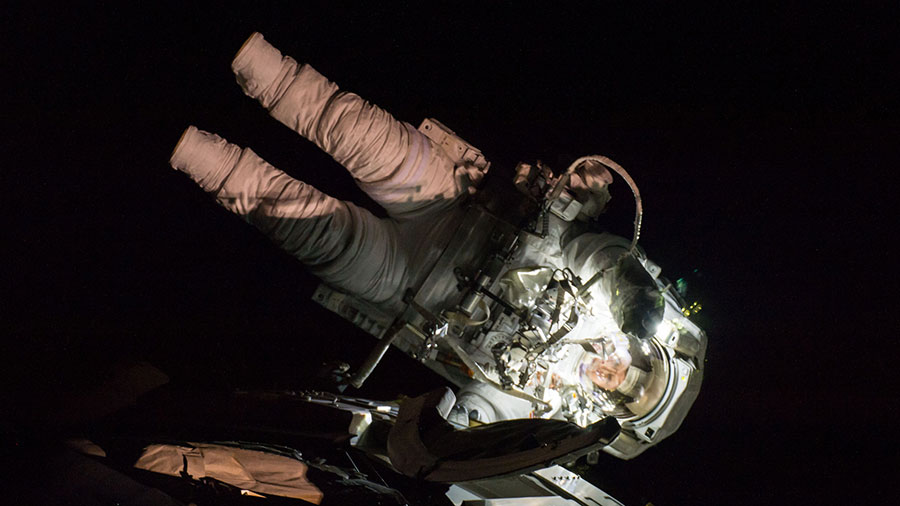 The 200th spacewalk aboard the International Space Station began this morning at 9:08 a.m. EDT for a spacewalk planned to last about four hours.
Managers in mission control decided to shorten the spacewalk from the original six and a half hour plan, due to available battery power for the spacesuits. During earlier spacewalk preparations, Whitson and Fischer shared a service and cooling umbilical (SCU) after a small water leak was detected in a second SCU that was connected the Fischer's suit. This was not a leak in Fischer's suit. The SCU is an airlock component used to provide electricity, cooling and communications to the crew while performing their pre-breathe activities in the Equipment Lock. The sharing of the SCU resulted in additional draw in battery power from the suits during preparations while in the Equipment Lock, reducing the battery power available for use during the spacewalk.
During the abbreviated spacewalk, Expedition 51 Commander Peggy Whitson and Flight Engineer Jack Fischer of NASA will tackle the principle objective to replace a large avionics box that supplies electricity and data connections to the science experiments, and replacement hardware stored outside the station. The ExPRESS Carrier Avionics, or ExPCA is located on the starboard 3 truss of the station on one of the depots housing critical spare parts.
Watch the spacewalk on NASA TV and on the agency's website.
Whitson is wearing the suit with red stripes as extravehicular crew member 1 (EV 1). Fischer, extravehicular crew member 2 (EV 2), is wearing the suit with no stripes.
---
Get weekly video highlights at: http://jscfeatures.jsc.nasa.gov/videoupdate/