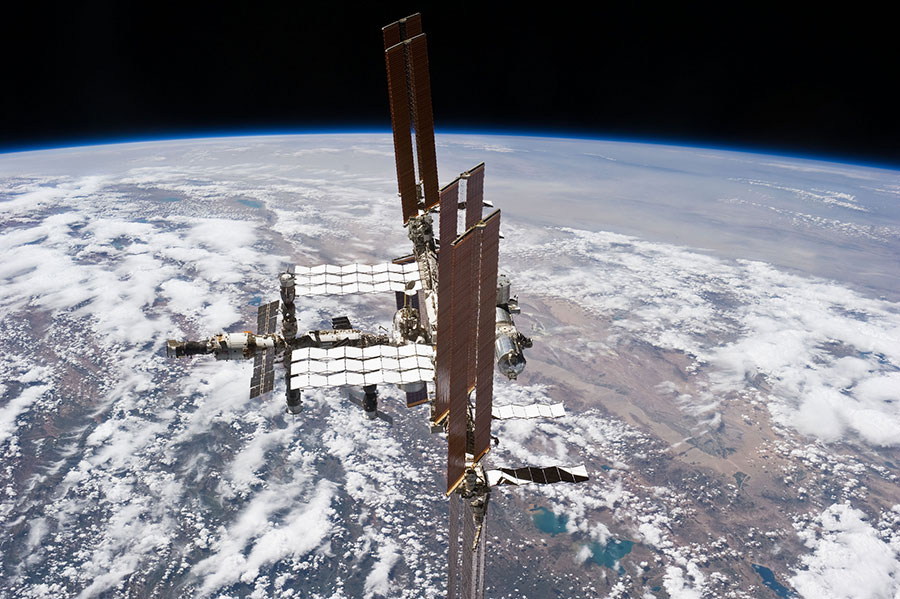 International Space Station Program managers have given the green light for a contingency spacewalk on Tuesday by two Expedition 51 crewmembers to change out a multiplexer-demultiplexer (MDM) data relay box on the S0 truss that failed on Saturday morning. The cause of the MDM failure is not known. After a review of spacewalk preparations and crew readiness throughout the day Sunday, the decision was made to press ahead with the spacewalk on Tuesday. It will be conducted by Expedition 51 Commander Peggy Whitson and Flight Engineer Jack Fischer of NASA.
The data relay box is one of two fully redundant systems housed in the truss that control the functionality of radiators, solar arrays, cooling loops and other station hardware. The other MDM in the truss is functioning perfectly, providing uninterrupted telemetry routing to the station's systems. The crew has never been in any danger, and the MDM failure, believed to be internal to the box itself, has had no impact on station activities.
On Sunday morning, Whitson prepared a spare data relay box and tested components installed in the replacement. She reported that the spare MDM was ready to be brought outside to replace the failed unit. Back on March 30, Whitson and Expedition 50 commander Shane Kimbrough of NASA conducted a spacewalk to install the same MDM with upgraded software tat failed Saturday.
A similar MDM replacement spacewalk was conducted in April 2014 by Expedition 39 crewmembers Steve Swanson and Rick Mastracchio of NASA.
Tuesday's spacewalk will last about two hours in duration to replace the failed box. An additional task was added for Fischer to install a pair of wireless communications antennas on the Destiny Lab while Whitson replaces the failed data relay box. The antenna installation task was originally planned for the last spacewalk on May 12.
The contingency spacewalk will be the 201st in support of space station assembly and maintenance and the sixth conducted from the Quest airlock this year.
This will be the 10th spacewalk in Whitson's career and the second for Fischer. Whitson will be designated as extravehicular crewmember 1 (EV 1) and will wear the suit with the red stripes. Fischer will be extravehicular crewmember 2 (EV 2) and will wear the suit with no stripes.
Tuesday's spacewalk is expected to begin around 8 a.m. EDT, or earlier, if the crew is running ahead of schedule with its spacewalking preparations. NASA Television coverage will begin at 6:30 a.m.
---
Get weekly video highlights at: http://jscfeatures.jsc.nasa.gov/videoupdate/