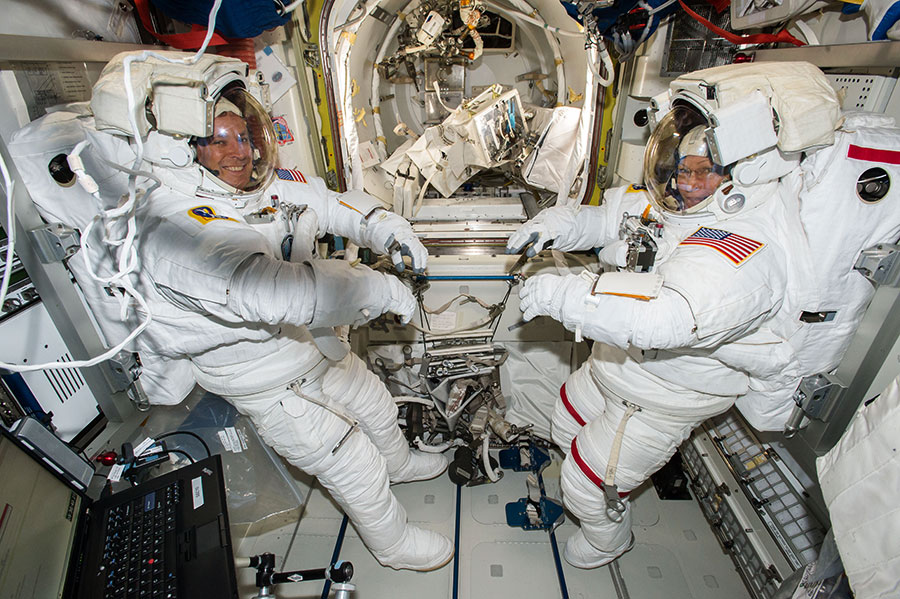 Expedition 51 Commander Peggy Whitson and Flight Engineer Jack Fischer of NASA will venture outside the International Space Station for a 2.5-hour contingency spacewalk Tuesday, May 23. The spacewalk will begin about 8 a.m. EDT, with complete coverage on NASA Television and the agency's website beginning at 6:30 a.m.
Whitson and Fischer will replace a critical computer relay box that failed on Saturday, May 20. The relay box, known as a multiplexer-demultiplexer (MDM), is one of two units that regulate the operation of radiators, solar arrays and cooling loops. They also will route commands to other vital station systems and install a pair of antennas to enhance wireless communication.
Because each MDM is capable of performing the critical station functions, the crew on the station was never in danger and station operations have not been affected.
The spacewalk will be the 201st in support of space station assembly and maintenance, the sixth spacewalk conducted from the Quest airlock this year, the 10th for Whitson and the second for Fischer.
Follow @space_station on Twitter for updates. For more information about the International Space Station, visit www.nasa.gov/station.
---
Get weekly video highlights at: http://jscfeatures.jsc.nasa.gov/videoupdate/