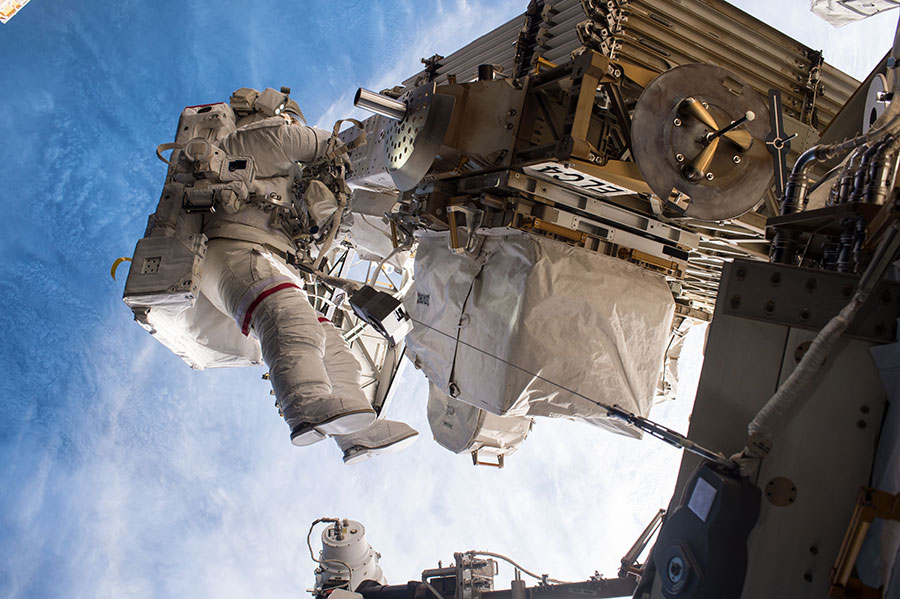 Two NASA astronauts switched their spacesuits to battery power this morning at 7:20 a.m., EDT aboard the International Space Station to begin a spacewalk planned to last about 2.5 hours. Expedition 51 Commander Peggy Whitson and Flight Engineer Jack Fischer will replace a critical computer relay box.
The relay box, known as a multiplexer-demultiplexer (MDM), is equipped with upgraded software installed in the truss March 30 during a spacewalk by Whitson and Expedition 50 commander Shane Kimbrough. Whitson prepared a spare data relay box on Sunday and tested components installed in the replacement. She reported the spare MDM was ready to be brought outside to replace the failed unit.
While Whitson is replacing the MDM, Fischer will install a pair of antennas on the U.S. Destiny Laboratory module to enhance wireless communication capability for future spacewalks. That task was deferred from Whitson and Fischer's May 12 spacewalk.
Whitson is wearing the suit with red stripes as extravehicular crew member 1 (EV 1). Fischer, extravehicular crew member 2 (EV 2), is wearing the suit with no stripes.
Watch the spacewalk on NASA TV and on the agency's website.
Follow @space_station on Twitter for updates. Learn more about the International Space Station online, including additional information about the current crew members.
---
Get weekly video highlights at: http://jscfeatures.jsc.nasa.gov/videoupdate/