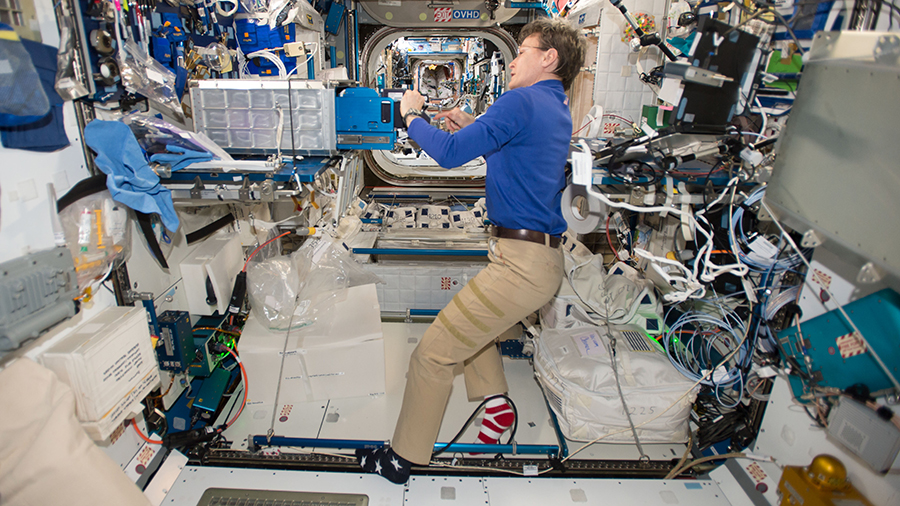 Expedition 52 is continuing to explore a new drug therapy today that may keep humans healthier in space. The trio onboard the International Space Station also worked on standard maintenance activities to keep the orbital complex in ship-shape.
Astronauts living on the station exercise a couple of hours every day to offset the muscle and bone loss experienced in microgravity. A new injectable drug is also being explored as a way to maintain strong bones during spaceflight. Flight Engineers Peggy Whitson and Jack Fischer of NASA are testing that drug today on mice for the fifth version of the ongoing Rodent Research experiment. Rodent Research-5 is testing the drugs ability to stop and reverse bone loss in space and may help patients with bone disease on Earth.
Fischer also worked on light plumbing duties and microbe sampling throughout Thursday. Whitson also worked on microbe sampling and set up life science gear ahead of a new experiment to be delivered on the next SpaceX Dragon cargo mission.
Commander Fyodor Yurchikhin checked out Russian life support gear and continued unloading new gear delivered last week inside the Progress 67 (67P) resupply ship. The veteran cosmonaut also repressurized the station's atmosphere using oxygen stored inside the 67P.
---
Get weekly video highlights at: http://jscfeatures.jsc.nasa.gov/videoupdate/