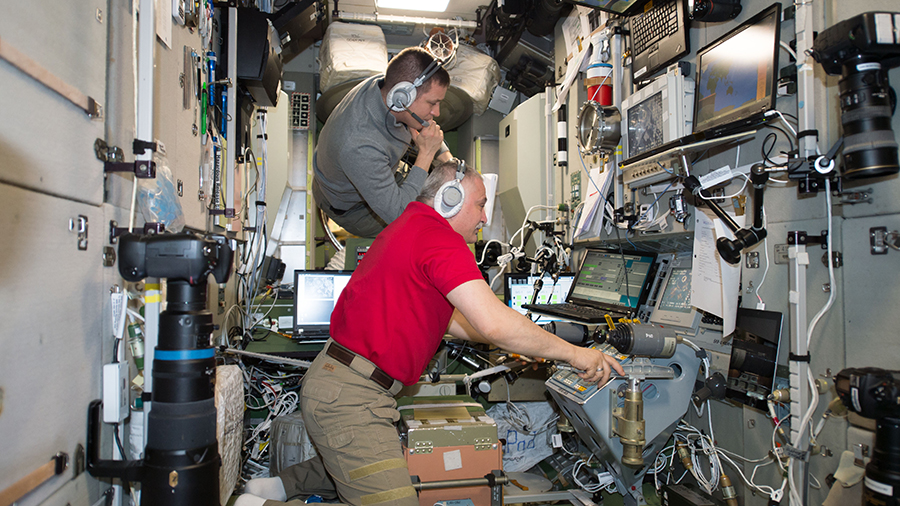 The Expedition 52 trio worked throughout Friday on human research studying cardiac biology and the microbes that live on humans. Tiny satellites inside the International Space Station were also investigated for future remote or autonomous use in space.
NASA astronaut Jack Fisher collected microbe samples from his body and stowed them inside a science freezer for later analysis on Earth. He also activated an ultrasound and scanned his legs for the Vascular Echo study that is exploring how veins and arteries adapt during a spaceflight mission.
Three-time station crew member Peggy Whitson retrieved stem cell samples for observation to determine if living in space speeds up the aging process. Whitson then set up the SPHERES Halo experiment that is exploring the possibility of using satellites to clean up space debris and assemble objects such as space telescopes and habitats.
Commander Fyodor Yurchikhin worked in the station's Russian segment maintaining life support systems. The veteran cosmonaut also explored pain sensation in space then wrapped up the work day with Earth photography documenting human and natural impacts across the globe.
---
Get weekly video highlights at: http://jscfeatures.jsc.nasa.gov/videoupdate/