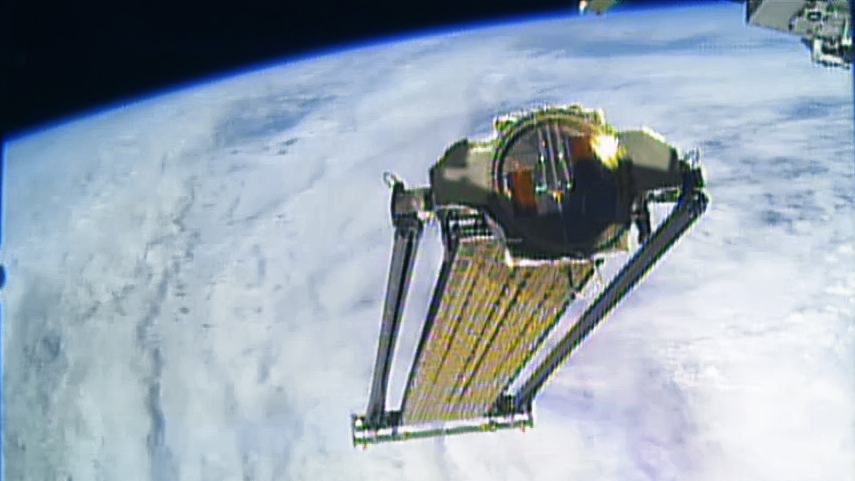 An experimental solar array demonstration was jettisoned while the Expedition 52 crew continued preparing the SpaceX Dragon for its release on Sunday. The three crew members also studied how microgravity impacts their bodies.
Following a week of successful science operations on the experiment for the Roll-Out Solar Array (ROSA), attempts to retract the array were unsuccessful. The ISS Mission Management Team met Monday morning and made the decision to jettison ROSA directly from its location at the end of the space station's robotic arm, where it remained fully deployed in a normal configuration.
The original plan called for ROSA to be stored back inside the trunk of SpaceX's Dragon which is detached and burned up in the atmosphere during Dragon reentry. The Operations team executed the jettison procedure that was developed as part of the pre-flight planning process that covered various scenarios. Once jettisoned, ROSA will not present any risk to the International Space Station and will not impact any upcoming visiting vehicle traffic.
ROSA is an experiment to test a new type of solar panel that rolls open in space and is more compact than current rigid panel designs. The ROSA investigation tests deployment and retraction, shape changes when the Earth blocks the sun, and other physical challenges to determine the array's strength and durability.
The SpaceX Dragon cargo craft is one week away from departing the International Space Station. NASA astronaut Peggy Whitson continued packing Dragon this morning with used hardware and research samples for analysis back on Earth. Dragon will be released from the Canadarm2 Sunday at 11:38 a.m. EDT and splash down in the Pacific Ocean about 5-1/2 hours later.
Whitson then joined Flight Engineer Jack Fischer in the afternoon to wrap up the Seedling Growth-3 experiment. The botanical study is exploring how the lack of gravity impacts light sensing and growth in plants. Plant samples from the study will be returned to Earth on Sunday inside the Dragon resupply ship.
Commander Fyodor Yurchikhin, along with Whitson and Fischer, took body measurements today to help scientists understand how living in space affects body size. The crew also collected blood, urine, saliva and breath samples for more insight on astronaut health.
---
Get weekly video highlights at: http://jscfeatures.jsc.nasa.gov/videoupdate/