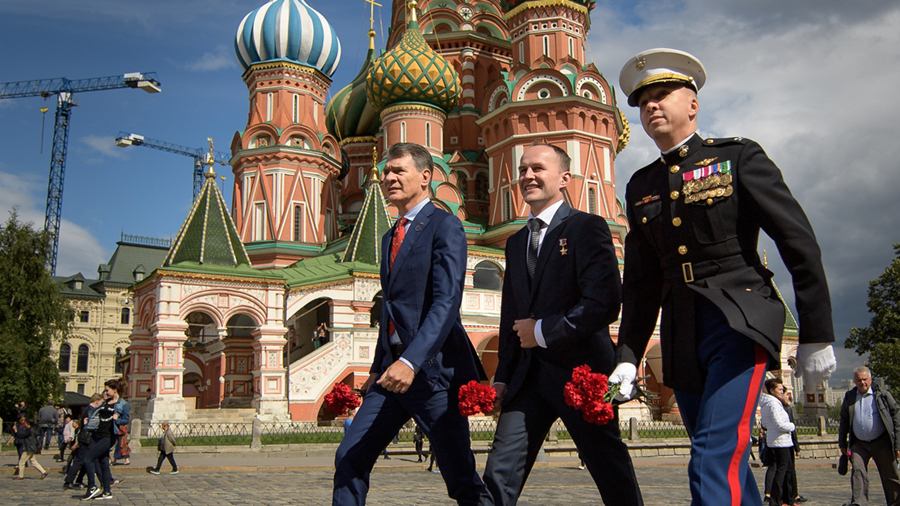 The three Expedition 52 crew members practiced evacuating the International Space Station today in the unlikely event of an emergency. The trio also set up an advanced life science study and continued the upkeep of the orbital complex.
Commander Fyodor Yurchikhin joined Flight Engineers Peggy Whitson and Jack Fischer for an emergency evacuation drill Monday morning. The crew practiced quickly donning safety gear and entering the Soyuz MS-04 spacecraft before simulating an emergency undocking and descent to Earth.
Afterward, Whitson spent the rest of the day exploring magnetic cell cultures and bio-printing for the Mag 3D experiment. The new research which just started in April is exploring how magnetic tools may enhance cell and tissue culture capabilities on orbit.
Fischer pressurized the Japanese Kibo lab's airlock and checked for leaks ahead of an external experiment set to begin next week. Fischer later worked on light plumbing duties and checked on the condition of a science freezer.
Back on Earth, another three Expedition 52 crew members are getting ready for their July 28 launch to the space station. The experienced space trio of Randy Bresnik, Paolo Nespoli and Sergey Ryazanskiy, visited Red Square in Moscow for traditional ceremonies on Monday. They will head to the Baikonur Cosmodrome in Kazakhstan July 16 for final pre-launch training.
---
Get weekly video highlights at: http://jscfeatures.jsc.nasa.gov/videoupdate/