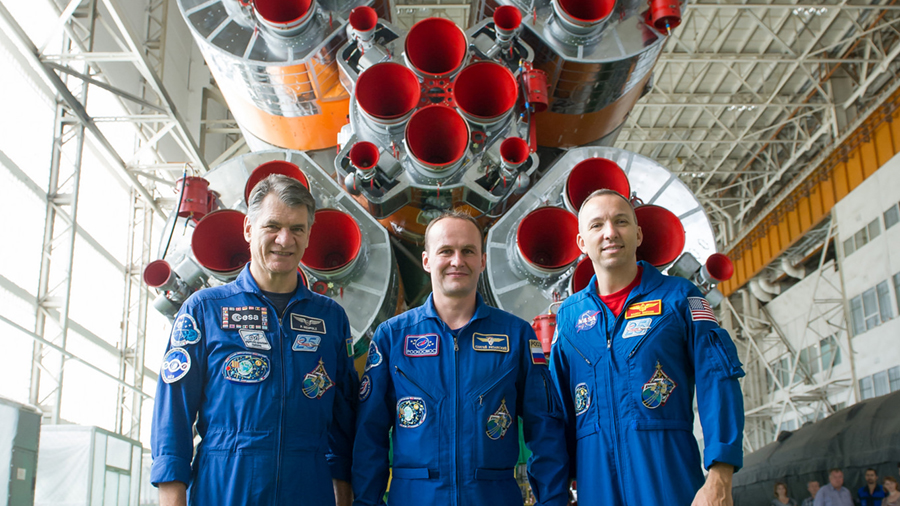 A new International Space Station crew is less than a week away from beginning a 4-1/2 month mission living and working in space. The trio from the United States, Russia and Italy is in Kazakhstan counting down to a Friday launch at 11:41 a.m. EDT inside the Soyuz MS-05 spacecraft.
Cosmonaut Sergey Ryazanskiy will command the Soyuz vehicle during the six-hour, 19-minute ride from Earth to the station's Rassvet module. He will be flanked by crewmates Randy Bresnik of NASA and astronaut Paolo Nespoli from the European Space Agency. NASA TV will cover the launch and docking activities live.
Meanwhile, the Expedition 52 crew orbiting Earth now explored how microgravity impacts cancer therapies. The trio also worked on various maintenance tasks throughout the orbital lab.
New space research aboard the station is providing insights that may accelerate development of drugs that target only cancer cells. Flight Engineer Peggy Whitson peered at cells today through a microscope for the cancer study that started in April this year. Results may create more effective treatments for cancer patients on Earth.
Jack Fischer of NASA moved a variety of science gear around and cleaned a mouse habitat. He also swapped out a hard drive for an experiment that measures the composition of meteors orbiting and entering Earth's atmosphere.
---
Get weekly video highlights at: http://jscfeatures.jsc.nasa.gov/videoupdate/