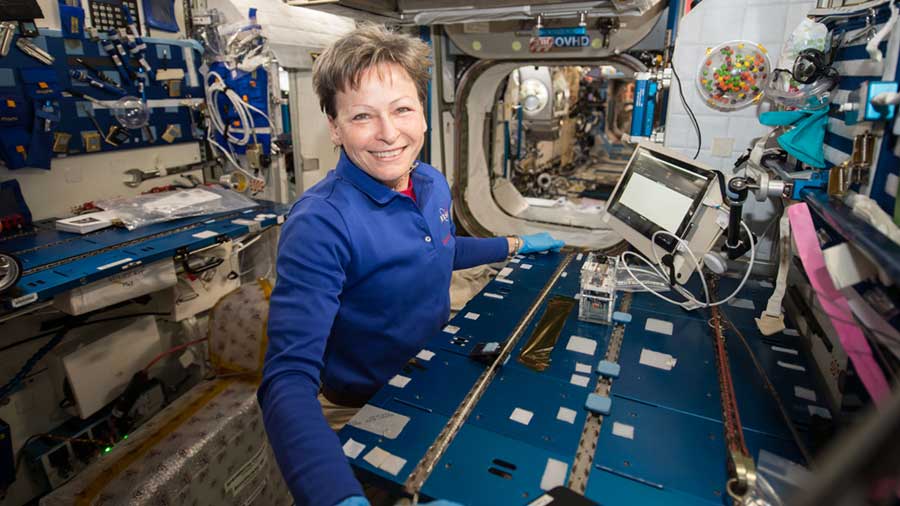 A pair of Expedition 52 astronauts checked out new, smaller exercise gear today. The crew also worked on a variety of human research while a new cosmic ray detector has begun scanning outer space.
The space station's two newest astronauts, Paolo Nespoli and Randy Bresnik, joined forces today to measure the effectiveness of the new Mini-Exercise Device-2 (MED2). The MED2 is smaller and less bulky than other space exercise equipment providing more habitability room on a spacecraft. The duo worked out on MED2 and took photographs to demonstrate its ability to provide motion and resistance during an exercise session.
Flight Engineer Jack Fischer scanned his leg artery with an ultrasound device after a short exercise during the afternoon. The Vascular Echo study is examining how blood vessels and the heart adapt to microgravity. Astronaut Peggy Whitson spent her afternoon swapping cell cultures inside the Advanced Space Experiment Processor.
The Cosmic Ray Energetics and Mass Investigation, or CREAM, is now observing cosmic rays coming from across the galaxy. CREAM was attached to the outside of the Kibo lab module on Tuesday after a handoff from the Canadian robotic arm to the Japanese robotic arm. CREAM was delivered aboard the SpaceX Dragon and will help determine the origin of the cosmic rays and measure their features across the energy spectrum.
---
Get weekly video highlights at: http://jscfeatures.jsc.nasa.gov/videoupdate/