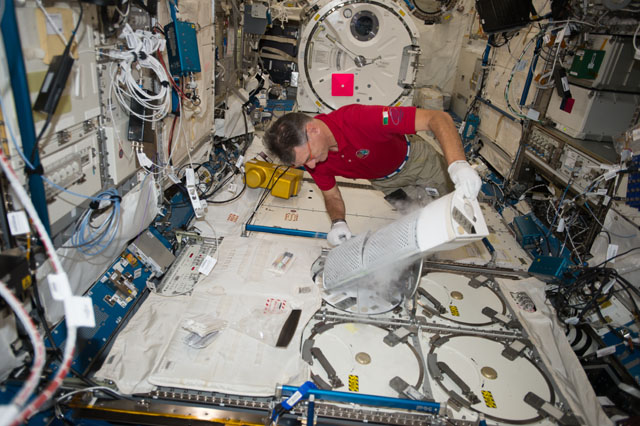 The crew today researched ways to alleviate headaches and reverse bone loss in space to improve mission performance. Meanwhile, the station's three newest residents also checked out station emergency gear and systems.
Common ailments that afflict people on Earth such as headaches also affect astronauts in space impacting their mission activities. Astronauts Paolo Nespoli and Randy Bresnik are jotting down their experiences this week to help doctors understand space headaches. Observations may reduce their effects and improve performance during spaceflight and on Earth.
NASA astronauts Jack Fischer and Peggy Whitson are studying a new drug for its potential to slow or reverse bone loss in space. They looked at bones in mice today to help determine the efficacy of the new drug.  The lack of gravity causes osteoporosis-like symptoms weakening bones in space possibly impacting crews returning to Earth and experiencing gravity for the first time in months.
Cosmonaut Sergey Ryazanskiy joined his crewmates Nespoli and Bresnik this afternoon familiarizing themselves with the station's emergency equipment. The new trio explored their new home in space taking note of safety gear locations and escape paths.
---
Get weekly video highlights at: http://jscfeatures.jsc.nasa.gov/videoupdate/